Baggage fees? Not for the man who created them
Consultant John Thomas' idea is credited with saving the airlines, but he flies on a private plane.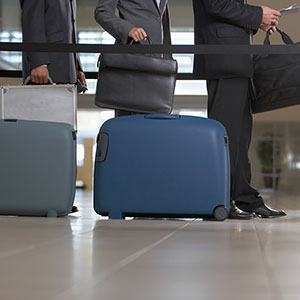 Meet the man behind one of the most reviled moves of the airline industry: 54-year-old John Thomas, the airline consultant who devised the checked luggage fee.

Thomas' idea may have saved some airlines from insolvency, but it has also set off grumbling among the roughly 732 million people who fly commercially in the U.S. each year.
But luggage fees aren't something that Thomas himself deals with. That's because he flies on a seven-passenger Cessna Citation jet, according to The Boston Globe. If Thomas has to travel on a commercial airline, he uses only a carry-on, bypassing the checked-luggage fees. 
"Oops," he told the Globe, when the publication pointed out the irony to him. Thomas said he learned to fly after high school and started a small airline while a university student in Australia.
Thomas' notion is credited with generating $3 billion a year for the airlines, money that has helped keep some companies aloft. He first came up with the idea in 2006 for a Canadian airline, then trotted out the plan when a U.S. airline, which Thomas said he couldn't identify, was searching for new revenue streams. 
Then in 2008, United Continental's (UAL) United Airlines said it would charge $25 for passengers' second checked bag. Soon, US Airways (LCC) and almost all other major airlines followed suit. 
"I would credit bag fees with saving the industry that year," Jay Sorensen, president of travel consulting firm IdeaWorksCompany, told The Globe. 
While it may have saved the airlines, it's one reason why consumers increasingly hate flying. Passenger satisfaction dropped last year, with travelers vexed about checked bag fees, according to J.D. Power. 
Thomas, who works for London-based consulting firm LEK Consulting, isn't done yet with drumming up new revenue ideas for the airlines. Want an empty seat next to yours? Pay $100. That's one option Thomas has advised a British airline about. He also has an idea for gambling with frequent-flier miles, given that online gambling regulations are being loosened. 
"Think of it as being in the mall with nothing to do, and there's a blizzard outside, so you're stuck in the mall for five hours." he told The Globe. "That's probably worth another $5 billion."
Follow Aimee Picchi on Twitter at @aimeepicchi. 

this is industry has lived in the bankruptcy courts. it is so poorly run that it must constantly stiff creditors. it tries to make it up by pummelling its customers. airline management is probably still thanking its lucky stars that 9/11 came along. they can now tell you to go to hell and you cannot respond without either being arrested or banned from flying for life.

My husband and I fly just a couple of times a year.  I am not afraid of flying, but I just hate the whole airport experience and resent that at least the first stowed bag is not included in the price.  God knows the price is high enough as it is!  I do think the idea of having a $100 fee for an empty seat next to you has some merit.  Both of us are on the "fluffy side" and would never afford to pay for two seats each to accommodate our more abundant (moderately) girths, but if we could have a third seat for just $100, especially for a longer flight, we would do it in a heart beat!

Is it a surprise to anyone that the federal government has done virtually NOTHING SIGNIFICANT to reel in the airlines from RIPPING off the American people. What ever act that was passed by Congress was TRULY just window dressing that miserably FAILED to address anything about the over charging of various fee's by the airlines. For the last 15 years, consumers have paid an increase of 100% or GREATER in ALL AIRLINE FEE's but continue to get LESS and LESS for their money. The "passenger bill of right's" act or whatever it's called is a DAMN JOKE and only addresses issues that any DECENT airlines would already have in place. "If a flight has sat on the runway for 3 hours or greater while awaiting take off, then food, drinks and bathroom facilities must be made available". Ohhh REALLY!!!!! IF ANY ELECTED GOVERNMENT OFFICAL HAD TO WAIT THAT LONG, you can bet your
****
, more significant and meaningful legislation would be passed. The airlines are the BIGGEST CONSUMER RIPP OFF's in the USA and NOTHING IS BEING DONE ABOUT IT BY OUR ELECTED OFFICAL's. Just review all the INCLUDED FEE's that the airlines impose of their consumers; the next thing you know they will start to charge for breathing air!!! The problem is that there is no other affordable way to travel in the USA. Look at Europe with the bullet trains and excellent travel infra structure. Why is it that the USA doesn't have bullet trains that go coast to coast?. Because the airlines lobby AGAINST THIS mode of transportation and "contribute"( READ BRIBE)  to our elected officials "campaign chest's". Oh that's right, our current administration is only involved in : 1. not being able to pass a budget in 4 years which means UNCHECKED spending because there is not budget guidelines to go by; 2. Gay and Lesbian special interest rights; 3. ensuring that illegal immigrants receive food stamps, unemployment benefits, schooling for their kids, and the ability to vote with NO FORM OF IDENTIFICATION; 4. doubling the national debt in just 4 years; 5. getting the USA's WORLD CREDIT RATING reduced from triple to double star rating; and 6. RAISING TAXES, breaking faith with those americans who ACTUALLY DID SOMETHING FOR AMERICA, giving benefits to special interest groups who FEEL ENTITLED to things while DENYING ENTITLED americans the benefits they EARNED through years of hard work, service to their country and/or both!!!. IT MAKES ME SICK to see had bad the USA has gone down hill since Obama has been elected President. But the american ultra-liberal's continue to vote for him, he has the backing of ultra-left Hollywood to influence people. ONLY WHEN THE PEOPLE OF THE USA WAKE UP TO SEE THE DAMAGE THAT HAS BEEN DONE TO AMERICA DUE TO THE POLICIES OF THIS CURRENT ADMINISTRATION, only then, will any type of positive reform take place. Until then continue to pay higher taxes (because of gross mismanagement and waste by the government) higher gas prices, higher food prices, higher retail/service sector prices and continue to PAY MORE FOR THINGS ONLY TO GET LESS IN RETURN; I suppose this is just "normal inflation".....you decide.....  

Flying is a waste of time and money, in my opinion, unless you're going overseas.  Last time I flew to Las Vegas from Denver, it took nearly 10 hours between travel time to the airport, arriving early for long security lines, flight time, and waiting for bags and a taxi.
The time to drive is approximately 11 hours.  I would much rather be on the open road and support local restaurants and gas stations than hand over money to poorly run airlines.  Everything about air travel is inconvenient, uncomfortable, and overly expensive.
We need to be in less of a rush these days and take our time to view the country up close instead of hurling toward the destination 20,000 feet up in the air.
Are you sure you want to delete this comment?
DATA PROVIDERS
Copyright © 2014 Microsoft. All rights reserved.
Fundamental company data and historical chart data provided by Morningstar Inc. Real-time index quotes and delayed quotes supplied by Morningstar Inc. Quotes delayed by up to 15 minutes, except where indicated otherwise. Fund summary, fund performance and dividend data provided by Morningstar Inc. Analyst recommendations provided by Zacks Investment Research. StockScouter data provided by Verus Analytics. IPO data provided by Hoover's Inc. Index membership data provided by Morningstar Inc.
MARKET UPDATE
[BRIEFING.COM] Equity indices remain near their flat lines as heavily-weighted sectors continue trading in mixed fashion.

At this juncture, the industrial sector (-0.6%) is the weakest performer among cyclical groups with defense contractors pressuring the space. The PHLX Defense Index is lower by 1.1% with just about every component trading lower. Including today's decline, the Defense Index is now down 2.4% for the week and off 0.7% so far in September. On the upside, General ... More
More Market News