Yelp resists request to reveal anonymous reviewers
A company wants to know who said bad things about it that it says are false. The case raises issues that users need to be aware of.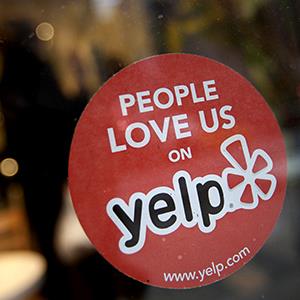 A Virginia carpet cleaning company wants to find out the identities of seven people who posted negative reviews about it, which it says are false and defamatory, on
Yelp
(
YELP
). But the consumer review site isn't passing along those names.
Over Yelp's objections, a court in Alexandria, Va., ordered it last year to provide the information requested by the carpet cleaner, which also alleges that its online critics probably are working for competitors,
according to Consumerist
. Other reviewers had posted similar complaints about the plaintiff and were not sued.
"Yelp has yet to oblige but has asked the plaintiff to name any reviewers it believes were employed (by) or connected to competitors so that it might investigate," Consumerist says.  "However, the carpet cleaner has not taken Yelp up on this offer." A spokesperson for Yelp couldn't be reached for comment.
Despite the threat to users' anonymity, reviewers certainly aren't shying away from Yelp. The site carried more than 39 million reviews in the quarter, and monthly unique visitors jumped by 43% to about 102 million.
Yelp shares have surged
more than 61% this year as the company, based in San Francisco, reported
better-than-expected​
results in the most recent quarter.  
Setting aside a discussion on the merits of the carpet cleaner case, it does underscore how seriously businesses, particularly small ones, take user online user reviews. Consumers have wide latitude in what they can say, but the protection of free speech is not absolute; that was certainly not the intention of the founding fathers.
Some users may not know their limits. For instance, you can say a restaurant's food is bad and its service is slow. But the restaurant has every right to sue people who falsely claim that its kitchen is infested with rats. Yelp makes this very point on
its website
, where it warns people of the "legal consequences if you post false information." 
Companies track consumer reviews very carefully on sites such as Yelp or
Angie's List
(
ANGI
) because they're eager to protect their reputations and the integrity of their brands. Understandably, many people post reviews anonymously because they feel more comfortable expressing themselves if their names are left off a review.
"Anonymous and pseudonymous reviews are definitely part of the large review ecosystem today," Reputation.com CEO and founder Michael Fertik said in a statement to MSN Money. He declined to comment on Yelp or this case, but he added, "It is increasingly clear that identified (nonanonymous) reviews carry higher credibility and value for readers."
People should feel free to comment anonymously, but they need to be aware of their actions' potential consequences.
Jonathan Berr does not own shares of the listed stocks. Follow him on Twitter @jdberr.

In my opinion, if you are a small business and don't want bad reviews, don't offer coupons and groupons.  It's not the coupon that gets you the bad review, but the customers that they attract are the least appreciative and the most picky and ridiculous.    For half price at the detailing shop, they get out the magnifying glass, and  yet, they would never consider paying full price,  They are not good tippers, when tipping is the norm, and they don't come back for repeat business after they have used their coupon.   Even on EBAY, the worst feedback came from people  who got great things from me at less than the price of the postage.  The cheapskates are the people that leave horrible comments just because they enjoy being mean, and then they have the nerve to brag about it.  I had  a person email me and tell me she was leaving me a bad review just because they could, and she relished the fact that I couldn't do anything about it.  It drove me out of the business.


Go YELP! Angie's List should join YELP in defending this review models.  If they really have to reveal the info of users, users that DO NOT work for competitors should have immunity.  I was going to post my negative experience with an HVAC service company that advertises $49.95 A/C Tune UP and $59.95 Diagnostic, but gave me a very negative review of my 2006 installed A/C and tried to make me spend for 2 central ACs upgrade last year.  Do you know how much that would have cost me?  I ended up lost $60 for the repairman's time of  20 minutes which he spend half of it selling me their AC.  He told me my AC is dead shorted.  An amateur AC student help me fix my power fuse switch for free afterward.  But I was so happy that my AC works again, I gave him $100 for my appreciation.  This article scares me.  YELP should sue that company for scaring away the users.


Yelp misrepresents businesses and extorts for money to show/hide reviews accordingly. There's a world of complaints and lawsuits out there.  Yelp is the worst review/listing website we know of, they knowingly ruin businesses and they just don't care.  Their review filter mechanism is a joke, and the small Yelpers on the phone will just tell you this is the way it is.  I wait for the day that they change their review methodology or they just disappear all together.
Are you sure you want to delete this comment?
DATA PROVIDERS
Copyright © 2014 Microsoft. All rights reserved.
Fundamental company data and historical chart data provided by Morningstar Inc. Real-time index quotes and delayed quotes supplied by Morningstar Inc. Quotes delayed by up to 15 minutes, except where indicated otherwise. Fund summary, fund performance and dividend data provided by Morningstar Inc. Analyst recommendations provided by Zacks Investment Research. StockScouter data provided by Verus Analytics. IPO data provided by Hoover's Inc. Index membership data provided by Morningstar Inc.
MARKET UPDATE
[BRIEFING.COM] The stock market began the new trading week on the defensive note with small-cap stocks pacing the retreat. The Russell 2000 (-1.4%) and Nasdaq Composite (-1.1%) displayed relative weakness, while the S&P 500 lost 0.8% with all ten sectors ending in the red.

Global equities began showing some cracks overnight after China's Finance Minister Lou Jiwei poured cold water on hopes for new stimulus measures. Specifically, Mr. Lou said the government has no plans to change ... More
More Market News