Twitter rethinks 'Seinfeld' for the digital age
The 'Modern Seinfeld' account introduces Jerry, George and company to Yelp and CrossFit. Not that there's anything wrong with that.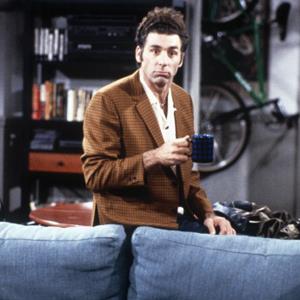 Jerry, Elaine, Kramer and George and the rest of the "Seinfeld" universe in the modern era? It's a Festivus miracle!
As if folks needed yet another distraction in the weeks leading up to the Christmas holiday, BuzzFeed sports editor Jack Moore took to Twitter this weekend to give the "Seinfeld"-watching world a taste of how the gang at Monk's Cafe would handle the social media world. Moore's Modern Seinfeld (@SeinfeldToday) has picked up more than 110,000 followers since popping up on Sunday just by suggesting that Kramer could bring a TED Talk crowd to its feet with gibberish or that Jerry's obnoxious postman neighbor Newman secretly writes fan fiction.
This is a show that hasn't aired a new episode in more than 14 years. The last time Jerry Seinfeld, Julia-Louis Dreyfuss, Michael Richards and Jason Alexander appeared in an episode together, it was for Seinfeld co-creator Larry David's now-defunct HBO show "Curb Your Enthusiasm." That was three years ago.
Why does "Seinfeld" still have this sort of hold on a large swath of the American public more than two decades after it first aired? Why will someone who rewraps and passes along an unwanted gift to another person still be called "re-gifter?" Why will people pass a perfectly normal-looking department store Santa and wonder if he's secretly become a Communist? Why will some people still try to mark Dec. 23 with feats of strength and an airing of grievances?
Credit Moore with answering that question: The world around "Seinfeld" changed, but the idiosyncrasies still work. If George would convert to the Latvian Orthodox church to sleep with a woman, why wouldn't he become vegan? If Jerry hated a woman who laughed too vociferously at his jokes, is it a stretch to say he'd drop a girlfriend for favoriting too many of his tweets? If known factotum Kramer would steer a hansom cab pulled by a flatulent horse around Central Park, why wouldn't he drive one of Uber's cars? If Elaine loved the Today Sponge, why wouldn't her dates today be NuvaRing-worthy? In some cases, the Seinfeld template's just looking for a filler:
George's parents claim their house was destroyed by "Sandy," move in with George. He discovers the house is fine. Sandy is a loud neighbor.
I fully disclose owning all nine seasons of "Seinfeld" on DVD and perhaps throwing a few more words at this topic than it deserves, but the folks at Sony Entertainment (SNE) who crank out those DVD sets and the folks at Time Warner (TWX) who still put Seinfeld reruns TBS must get giddy every time something like this pops up. Meanwhile, fanboys and girls get to geek out again while memories of the eye rolls that ensued each time their parents or older relatives mentioned the chocolate factory scene from "I Love Lucy" or Jackie Gleason doing the Hucklebuck on "The Honeymooners" dim with each passing Festivus.
The antenna on Jerry's cordless phone, the boat Kramer calls a car, Elaine's job in the publishing industry, George's prowess at the video game "Frogger": They're all anachronistic rust that Modern Seinfeld brushes away to reveal the comedic genius underneath. It's also yet another example of Generation X bypassing the Baby Boom's black-and-white barrier and imposing its culture on every generation that's come along since.
First the Foo Fighters' seemingly endless career, then the "Transformers" movies, now this. Serenity now!
More from Money Now
Are you sure you want to delete this comment?
DATA PROVIDERS
Copyright © 2014 Microsoft. All rights reserved.
Fundamental company data and historical chart data provided by Morningstar Inc. Real-time index quotes and delayed quotes supplied by Morningstar Inc. Quotes delayed by up to 15 minutes, except where indicated otherwise. Fund summary, fund performance and dividend data provided by Morningstar Inc. Analyst recommendations provided by Zacks Investment Research. StockScouter data provided by Verus Analytics. IPO data provided by Hoover's Inc. Index membership data provided by Morningstar Inc.
MARKET UPDATE
[BRIEFING.COM] The stock market finished an upbeat week on a mixed note. The S&P 500 shed less than a point, ending the week higher by 1.3%, while the Dow Jones Industrial Average (+0.1%) cemented a 1.7% advance for the week. High-beta names underperformed, which weighed on the Nasdaq Composite (-0.3%) and the Russell 2000 (-1.3%).

Equity indices displayed strength in the early going with the S&P 500 tagging the 2,019 level during the opening 30 minutes of the action. However, ... More
More Market News