Gay marriages create wedding industry bliss
This new -- and growing -- clientele is a boon for planners, photographers, hotels, caterers and more. 'It's a big business.'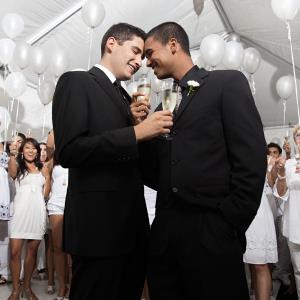 The U.S. Supreme Court is scheduled to begin hearing arguments this week on two different cases, one federal and one involving California law, regarding the legality of same-sex marriage. The court's rulings on these cases -- California's Proposition 8 and the federal Defense of Marriage Act -- could have long-term impacts on how Americans deal legally, financially and culturally with gay marriage.
Supporters of same-sex marriage say now is the time to bring this issue up for scrutiny. A number of polls show public support of gay marriage has risen significantly in recent years. Nine states and the District of Columbia have legalized gay marriage. And last week, Colorado joined eight other U.S. states with civil union laws or similar statues for same-sex couples.
But don't overlook the economic impact from all these changes. The gay wedding market has grown nationally, creating, as The Denver Post notes, new business opportunities for wedding planners, photographers, vendors, hotels, resorts and caterers -- as well as financial planners and attorneys.
"It's a big business," Bernadette Coveney Smith with the Gay Wedding Institute told the Post. "There is definitely room for all of us to benefit financially from gay weddings."
The Institute offers advice on planning legal same-sex weddings. It also has training workshops and a gay wedding certification program for people and organizations in related industries. Hundreds of wedding professionals have received that certification.
Lindsay Alesio, manager of a Marriott (MAR) in Denver, says her hotel received certification though the Gay Wedding Institute last year. That Marriott has so far hosted two same-sex weddings. It has three more scheduled and is getting inquiries for more.
Alesio says sensitivity, tolerance and respect for same-sex marriages can make an economic difference in her industry. She told the Post about a $175,000 gay wedding she booked several years ago at a mountain resort. She said she asked the man calling about the wedding, "What's the name of your significant other?"
"He said: 'You are the only one who has asked me that way,'" she remembered. "And he booked with us."
A casual look around the Web reveals dozens of sites offering advice and services for gay-friendly weddings.
Of course, not all marriages last. A 2011 study by the Williams Institute at UCLA's School of Law found "dissolution rates" for legally married same-sex couples were only slightly lower than divorce rates for different-sex couples. But ending a same-sex marriage or civil union can present some unique legal challenges.

"Civil unions are legal in Colorado now, but nothing has changed at the federal level," said certified financial planner Lauren Sigman in an interview with the Post, "so the complexity of that difference is very real." It seems even when a gay marriage goes bad, someone will be making a profit.

More on MSN

DATA PROVIDERS
Copyright © 2014 Microsoft. All rights reserved.
Fundamental company data and historical chart data provided by Morningstar Inc. Real-time index quotes and delayed quotes supplied by Morningstar Inc. Quotes delayed by up to 15 minutes, except where indicated otherwise. Fund summary, fund performance and dividend data provided by Morningstar Inc. Analyst recommendations provided by Zacks Investment Research. StockScouter data provided by Verus Analytics. IPO data provided by Hoover's Inc. Index membership data provided by Morningstar Inc.
MARKET UPDATE
[BRIEFING.COM] Equity indices remain near their flat lines as heavily-weighted sectors continue trading in mixed fashion.

At this juncture, the industrial sector (-0.6%) is the weakest performer among cyclical groups with defense contractors pressuring the space. The PHLX Defense Index is lower by 1.1% with just about every component trading lower. Including today's decline, the Defense Index is now down 2.4% for the week and off 0.7% so far in September. On the upside, General ... More
More Market News