Israel bans too-skinny models
The country uses body mass index to determine who's too thin. The US is unlikely to follow the example.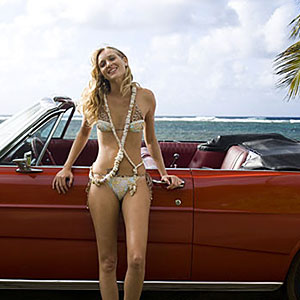 Israel's lawmakers have set an unusual New Year's resolution: a ban on too-skinny models. 

The law, which went into effect on Tuesday, effectively bars models with a body mass index of less than 18.5, reports The Wall Street Journal. People with a BMI below that number -- or women who are 5 feet 9 inches tall but weigh less than 124 pounds -- are considered too thin, according to the U.S. Centers for Disease Control and Prevention.
The fashion and advertising industries have come under fire for years for their reliance on skinny models, with some criticizing an unrealistic portrayal of beauty. 
The average American woman is 5 feet 3 inches tall and weighs 166 pounds (a BMI of 29.4, considered overweight), according to statistics from the CDC. That's a hefty jump from size of the average U.S. model, who measures 5 feet 11 inches and weighs 117 pounds (an underweight BMI of 16.3), according to a report from Rader Programs, which offers programs for sufferers of eating disorders.
"Adolescents often feel fatally flawed if their weight, hips, and breasts don't match up to those of models and actors," according to the Rader report. 
Supporters of the Israel law are hopeful it will encourage the use of healthier-looking models, according to the Journal. While Israel isn't the first to try to regulate models' weight -- the Milan Fashion Week banned overly thin models in 2006 -- it's typically tough to enforce. The Milan fashion show made headlines just a few years after the ban, when a "skeletal model" took to the runway.
The US. fashion industry indicated it's not likely to follow Israel's lead. The Council of Fashion Designers of America told the Journal on Tuesday that it would continue to recommend guidelines for healthy eating and fitness. "We never had an approach of mandate or enforce," he said. "We create awareness and education."
While that might strike some as a bit toothless, some in the fashion industry have advocated for more realistic depictions, with the editor of British Vogue asking designers to increase sample sizes. Unfortunately, even "big" models are getting thinner: Plus-sized models now average between size 6 and 14, while a decade ago most were in the size 12 to 18 range, according to Rader.
The irony might be that "plus" sized models could depict the healthiest lifestyle, with a new report from U.S. government finding that plump people may actually have a lower risk of dying than those at an idea weight. 
More on Money Now

About moneyNOW
MoneyNOW brings users smart, original and entertaining takes on the latest business and investing topics that are buzzing on the Web.
MARKET UPDATE
[BRIEFING.COM] The S&P 500 settled lower by 0.8% after early strength turned into afternoon weakness.

Today's headline event came in the form of Ben Bernanke's testimony before the Joint Economic Committee. During his remarks, Chairman Bernanke said premature tightening of monetary policy could stall the pace of recovery. This followed weeks of conflicting remarks from FOMC members, which sparked speculation regarding possible changes to the Fed's policy course.

However, ... More
More Market News
TOP STOCKS
Bernanke's losing battle?
In this installment of Investor Beat: The Fed chief tells Congress that it's too soon to end the stimulus program.