Barnes & Noble to close hundreds of stores
The bookseller has historically closed 15 locations a year, and will continue that rate even as it tests new prototype stores.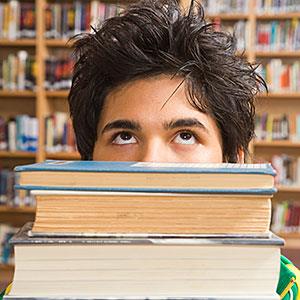 Barnes & Noble
(
BKS
), which has struggled for years to reinvent itself for the digital age, plans to close up to 30% of its physical stores over the next decade to shed costs in order to better compete against
Amazon
(
AMZN
) and other online rivals.
Mitchell Klipper, chief executive of Barnes & Noble's retail group, told The
Wall Street Journal
that the New York chain will have 450 to 500 stores in 10 years, down from its current 689 locations. The company also owns a chain of 674 college bookstores.
The only thing surprising about this announcement was that it took Barnes & Noble this long to make it. It's hard to remember at time when Barnes & Noble wasn't struggling, and this past holiday season was no different.
During the time retailers
earn most of their profit
, Barnes & Noble reported an 8.2% decline in comparable store sales, a key retail metric measuring the performance of locations opened for at least a year. Sales of the company's Nook e-reader, a key part of its digital business, fell short of expectations.
Wall Street hasn't thrown in the towel on Barnes & Noble. The average 52-week price target on the stock is $17.75, about 37% higher than where it traded Monday.
Microsoft
(
MSFT
) last year agreed to invest hundreds of millions of dollars in Barnes & Noble's digital business. Its road ahead, however, is not easy. (Microsoft owns and publishes moneyNOW, an MSN Money site.)
According to the Journal, Barnes & Noble expects to shutter about 20 locations a year. Until about 2009, it was opening 30 or more a year. Monday, a spokeswoman told MSN Money that Barnes & Noble has historically closed about 15 stores per year. Some of those were unprofitable while others were relocations. The company opened two prototype stores last year and will continue testing store formats this year, she added.
The new stores likely attempt to address the sea change that the book business has undergone in recent years. Amazon announced in 2011 that sales of electronic books surpassed printed editions for the first time. There's no way the book business will go back to the way things used to be.
While e-books are cheaper and more environmentally friendly because they don't sacrifice trees, shopping for them just isn't as fun as traditional books. When my 6-year-old son gets older, he probably won't believe me when I tell him of the times I spent leisurely strolling through stack after stack of freshly printed books at my local Barnes & Noble. He may laugh when I tell him that the chain sold a wide selection of caffeinated beverages to encourage people to hang out.
Things change -- but not always for the better.

--Jonathan Berr does not own shares of the listed stocks.  Follow him on Twitter @jdberr
More on moneyNOW

It saddens me that I who prefer holding a book in my hands and turn its pages will in the future have to purchase them on line.  i love going to the store, look for book titles I may have missed, drink a cup of coffee and enjoy the presence of those who feel as I do.  I purchase many titles every year as I am an avid reader, at least 3 books each month.
Keep us reading the way we want to.  Do not close our Manhattan, NY B&N locations.

Digital books aren't for me cause there is something about smell of a good old book, or a new one too.
I have a Barnes & Noble near me , so I like to go in there and shop for a book. I can actually sit down and read a little in the store before I buy the book too. The only complaint I have about the store is sometimes I can't find the book I want, but that is a minor concern.

This is no real loss to me or any other people I know.  There are two big reasons.  1.  High prices coupled with sales tax made most books unaffordable.  2.  The science and engineering section which I would like to purchase from is composed mostly of low tech books.  An example would be "C for Dummies", or "Algebra for Dummies", and countless other dummy books.  Try and find a well written book on Digital Signal Processing, or circuit analysis and your out of luck.  From the Barnes and Noble stores I have visited, it looked like the store buyer for the science and engineering section did not have a technical background as evidenced by the number of science fiction and diet books stocked in the science section.  Sadly this is true even for the stores in the high tech Silicon Valley area.  I have always had great service and fast delivery times from Amazon, and they stock just about every high tech book ever written.  So which of the two stores has a better and more modern business model?  You can judge by the differential in success between the two.

Amen!  There's not a better way to spend a rainy Saturday or Sunday than browsing in a bookstore.  And reading from a Nook cannot compare to cuddling up by the fireplace with an old friend of a book, dog-eared from years of reading and re-reading, and traveling to whatever exotic place that old friend takes you. 
Are you sure you want to delete this comment?
MARKET UPDATE
[BRIEFING.COM] Stocks ended modestly higher as the S&P 500 climbed 0.2%, and the Dow added 0.4% to register its 19th consecutive Tuesday of gains.

The major averages saw little change during morning action, but afternoon buying interest helped lift the indices to session highs. Most cyclical sectors (with the exception of materials and technology) finished among the leaders, but the defensively-geared health care sector settled atop the leaderboard as biotechnology outperformed. ... More
More Market News
TOP STOCKS
S&P 500 forecast to hit 2,100 by 2015
As the stock market reaches new highs, Goldman Sachs sees more gains ahead. Fueling the market: An improving economy, growing dividends and low interest rates.