Red Lobster and Olive Garden cook up a mess
Parent company Darden blames the payroll tax hike for biting into sales, but its restaurants' recent performance indicates bigger problems.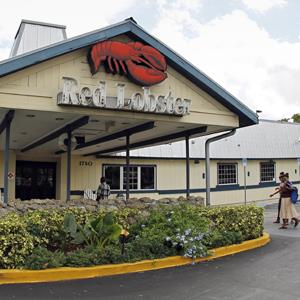 Ask what's wrong with The Olive Garden and Red Lobster, and parent company Darden International (DRI) will give you a full menu of options: The specials aren't cheap enough, people are eating less seafood, the healthier menu items haven't caught on yet, the new décor and menus require some acclimation, the weather has been bad.

Now it can add a new special to the list: Rising payroll taxes.
For the second consecutive quarter, Darden issued a warning about its profits for the most recent quarter and cut its outlook for the year. It now expects revenue to slide 4.5% for the quarter ending Feb. 24, and it placed the blame on a two-percentage-point​ increase in the Social Security tax after a temporary tax cut expired.
This plaintive cry may sound a bit familiar, as retail giant Wal-Mart (WMT) just used the same excuse for its soft performance in January even though competitors like Target (TGT), Macy's (M) and TJX (TJX) reported rising sales during the same month. Darden's situation is somewhat more dire, however, because its attempts to fix problems that cropped up at the end of 2012 have been largely fruitless.
After the company revised expectations last quarter, sales at Darden's U.S. restaurants fell 2.7% for its three biggest chains. That included a 3.2% drop at Olive Garden, a 2.7% decline at Red Lobster and a 0.8% slump at LongHorn Steakhouse. At the time, Darden said it was still waiting for tweaks to its restaurants and menus to take hold. But it admitted misjudging its specials by offering 2-for-$25 meal deals when competitors including DineEquity's (DIN) Applebee's, Brinker Restaurants' (EAT) Chili's and Bloomin' Brands' (BLMN) Outback Steakhouse offered 2-for-$20 meal deals or $10 entrees.
Meanwhile, Darden increased the number of chicken and beef items offered at Red Lobster from 8% of the menu to nearly a quarter, added low-calorie options to Olive Garden's menu and changed its slogan from "When You're Here, You're Family" to the more fast-paced "Go Olive Garden." That move didn't work, and in January, Darden replaced Olive Garden's president in an effort to boost results.
The problem is bigger than Darden or its restaurants, though. Americans spent 5.5% more at chains that offer low-calorie menu items, but 3% less at casual-dining establishments last quarter. Combined with drops in casual-dining spending reported by NPD Group every quarter since spring of 2010 and the gradual shunning of roadside chains by people ages 18 through 47, these are grim times for the segment.

When your industry's decline predates the tax cut you're complaining about, maybe it's time to stop blaming everything beyond your restaurant's walls and start taking a good, long look at the boil-in-bag dishes being served at the vinyl-lined booths within them.

What a surprise that factory food is going out of style.  I don't see how this has a thing to do with the Payroll tax cut.  Obama had no business cutting the payroll deferral to Social Security in the first place.  It is not a tax break,a tax cut, or anything else to do with taxes, no matter what the white house calls it.  Social Security is not a tax; it is a retirement program.  If people took that money and went to Olive Garden, it goes to show you that they didn't need the money in the first place.  The problem with the Olive Garden and The Red Lobster is that there is always a crowd and always a long wait, it is noisy, and the food is nothing special.  It certainly has little in common with authentic Italian or New England cuisine.


My wife likes Olive Garden but my complaint is that there never seems to be enough meat in their dinners. I usually order the shrimp fettuccine. My complaint is that there is usually only 6-8 small sized shrimp in there and its  like $15! Cmon, that's ridiculous you load the plate up with pasta and 8 shrimp? Even the Chicken plates only have small amounts of it in there. People want good food AND value when they go out. Lastly we went about 4 months ago and it seems to me they usually have extra people greeting and just standing there, Less waste more value to the customer and lastly who wants to fill up on soup and salad? I go to a restaurant to eat GOOD FOOD, if I want a crappy salad I can make that at home.   


THERE WAS NO PAYROLL TAX HIKE........
              YOU MEAN THE 2% "TAKE BACK" on SOCIAL SECURITY....??
      YOUR RESTAURANTS NEED NEW MANAGEMENT or SOMEONE with HALF a BRAIN..
If people's lives and spending habits depended on that 2%, they are in bigger trouble then I thought.?
That was meant to pay for higher fuel costs, for going to work...
Are you sure you want to delete this comment?
DATA PROVIDERS
Copyright © 2014 Microsoft. All rights reserved.
Fundamental company data and historical chart data provided by Morningstar Inc. Real-time index quotes and delayed quotes supplied by Morningstar Inc. Quotes delayed by up to 15 minutes, except where indicated otherwise. Fund summary, fund performance and dividend data provided by Morningstar Inc. Analyst recommendations provided by Zacks Investment Research. StockScouter data provided by Verus Analytics. IPO data provided by Hoover's Inc. Index membership data provided by Morningstar Inc.
MARKET UPDATE
[BRIEFING.COM] The stock market finished an upbeat week on a mixed note. The S&P 500 shed less than a point, ending the week higher by 1.3%, while the Dow Jones Industrial Average (+0.1%) cemented a 1.7% advance for the week. High-beta names underperformed, which weighed on the Nasdaq Composite (-0.3%) and the Russell 2000 (-1.3%).

Equity indices displayed strength in the early going with the S&P 500 tagging the 2,019 level during the opening 30 minutes of the action. However, ... More
More Market News