Fear death? Pop a Tylenol
Johnson & Johnson's popular pain reliever has been found to reduce 'existential angst' -- that is, if you're watching 'Eraserhead' or pondering prostitutes' bail amounts.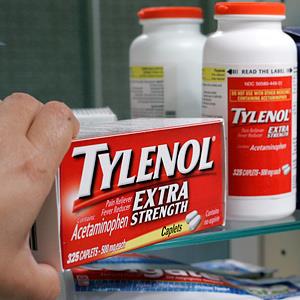 Johnson & Johnson (JNJ) executives wouldn't be blamed for taking some of their own headache medicine, given the government's takeover of three of its Tylenol plants in 2011. 

But now the health care products giant has gotten a bit of bright news. A new report published in Psychological Science found that Tylenol and other medicines with acetaminophen can help alleviate "existential angst."
"Pain extends beyond tissue damage and hurt feelings, and includes the distress and existential angst we feel when we're uncertain or have just experienced something surreal. Regardless of the kind of pain, taking Tylenol seems to inhibit the brain signal that says something is wrong," lead researcher Daniel Randles, a graduate student at the University of British Columbia in Canada, said in a statement.
The study might boost sales of Tylenol if down-in-the-dumps people look for cheap and quick ways to boost their spirits. That could turn the medication into one that's bought by consumers for a secondary reason, such as the way some people pop an aspirin as a heart attack and stroke prevention aid. 
The study likely comes as a welcome surprise for J&J, which has suffered from a series of setbacks including the Tylenol plants and claims that its DePuy unit defectively designed a metal-on-metal hip implant.
The researchers said their findings "suggest that Tylenol may have more profound psychological effects than previously thought," according to a statement from Psychological Science. 
In a double-blind study, participants took either Tylenol-brand acetaminophen or a sugar-pill placebo. One group was asked to write about what would happen to their bodies after they die (creating existential dread), while the control group was asked to write about experiencing dental pain (unpleasant but not particularly angst-creating). After that, all were asked to read a report about a prostitute then set a bail amount. 
People in the group that took Tylenol were less harsh about the bail amount they would assign the prostitute, the study found. "These results suggest that their existential suffering was 'treated' by the headache drug," the statement said.
A second study group was given the task of watching a "surreal" video by director David Lynch, known for the classic TV series "Twin Peaks" and dark films such as "Eraserhead." 
The group that took Tylenol in that experiment were more lenient about a group of rioters following a hockey game. 
"The new finding is that, if participants had taken Tylenol, this effect (of people who are unsettled or uneasy making harsher judgments) disappeared entirely and they looked just like the control group that hadn't talked about their death or watched the unpleasant (film) clip," Randles told the Toronto Star. 
Follow Aimee Picchi on Twitter at @aimeepicchi. 
DATA PROVIDERS
Copyright © 2014 Microsoft. All rights reserved.
Fundamental company data and historical chart data provided by Morningstar Inc. Real-time index quotes and delayed quotes supplied by Morningstar Inc. Quotes delayed by up to 15 minutes, except where indicated otherwise. Fund summary, fund performance and dividend data provided by Morningstar Inc. Analyst recommendations provided by Zacks Investment Research. StockScouter data provided by Verus Analytics. IPO data provided by Hoover's Inc. Index membership data provided by Morningstar Inc.
MARKET UPDATE
[BRIEFING.COM] The stock market began the new trading week on the defensive note with small-cap stocks pacing the retreat. The Russell 2000 (-1.4%) and Nasdaq Composite (-1.1%) displayed relative weakness, while the S&P 500 lost 0.8% with all ten sectors ending in the red.

Global equities began showing some cracks overnight after China's Finance Minister Lou Jiwei poured cold water on hopes for new stimulus measures. Specifically, Mr. Lou said the government has no plans to change ... More
More Market News