Economists offer stark advice for college grads
For inspiration, turn to Oprah Winfrey or Steven Colbert. For hard truth, check out these wonks' dry words of wisdom.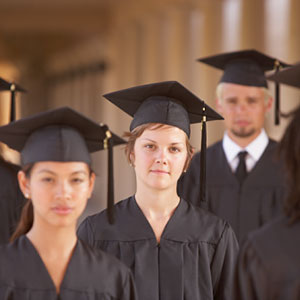 With Harvard recruiting Oprah Winfrey as its commencement speaker, Tulane bringing in the Dalai Lama and Ohio State, Morehouse and the U.S. Naval Academy getting visits from President Barack Obama, graduation day can get lonely for economists.
This year's graduates don't really want yet another reminder about their punishing pile of loan debt, which the U.S. government turned into a $100 billion profit. They don't need more experts telling them that 284,000 of the grads who came before them are making minimum wage. They already know that The Center for College Affordability & Productivity reported nearly half of the class of 2010 hold jobs that don't require a bachelor's degree and that 38% have taken jobs that don't even require a high school education. You don't need an economist to explain why these trends have helped drop the median wage for college graduates significantly since 2000.
Still, today's grads are far better off than their less-educated peers and just want a day to celebrate that fact before life does everything it can to dampen their achievements. Stay away from the University of Virginia, Paul Krugman. The graduates coming to commencement are more than happy with Steven Colbert.
However, National Public Radio doesn't believe in coddling the nation's future workforce. The network -- whose idea of a good time is an old-timey quiz show featuring esoteric celebrities torn from the pages of the New York Review of Books -- decided it would force-feed this year's graduates their medicine and ask a bunch of economists to provide some unsolicited advice for them.

With lots of time on the economists' hands and no commencement invitations arriving in their mailboxes anytime soon, here's the wisdom NPR's good-time gang of econo-wonks had to impart to the Class of 2013.
Justin Wolfers of the University of Michigan's Gerald R. Ford School of Public Policy reaches out to the kids through the universal language of awkward metaphor:
Approach your career ambitions the same way you approached your romantic ambitions at college. Sure, you're looking for "The One," but the only way to find that is by going on a lot of dates. And you should think about your first job as a good first date. Try it out. If you like it, stick around for another year. But if not, ask another employer out. And keep playing the field until you've found the job you want to stay with.
Professor Emily Oster of Chicago's Booth School of Business gets a bit less chummy while espousing the virtues of soul-deadening compromise:
Economics works great for planning your life when you don't have a work passion, since we tend to assume that your job delivers only money and you trade off job hours with leisure hours. If you think your job will just be a job, pick one that pays well per hour and leaves you some time off, even if the activity of the job is boring. Since the world is full of people looking for a job that feeds their passion, if you are willing to do something which most people are not passionate about (accountant? Tax attorney?) there's an arbitrage.
Financial Times columnist Tim Harford, "The Undercover Economist," finishes up with some strong joy- and dream-killing:
Economists have found that if you graduate during a recession, your career prospects are stunted long after the recession itself is finished. The economy is recovering now, but slowly. A year's delay would do no harm – might I suggest signing up for a master's degree?
Happy graduation, folks! Now get to work. That latte isn't going to pour itself.
DATA PROVIDERS
Copyright © 2014 Microsoft. All rights reserved.
Fundamental company data and historical chart data provided by Morningstar Inc. Real-time index quotes and delayed quotes supplied by Morningstar Inc. Quotes delayed by up to 15 minutes, except where indicated otherwise. Fund summary, fund performance and dividend data provided by Morningstar Inc. Analyst recommendations provided by Zacks Investment Research. StockScouter data provided by Verus Analytics. IPO data provided by Hoover's Inc. Index membership data provided by Morningstar Inc.
MARKET UPDATE
[BRIEFING.COM] The stock market began the new week on a cautious note. The S&P 500 lost 0.3%, but managed to erase more than half of its opening decline. Thanks to the rebound, the benchmark index reclaimed its 50-day moving average (1976.78) after slipping below that level in the morning.

Equities slumped at the open amid a couple global developments that dampened the overall risk appetite. Continued student protests in Hong Kong and a potential response from China weighed on the ... More
More Market News