Soda industry wins support as donations flow
Beverage companies are big donors to nonprofit and minority groups. And 2 of those groups recently opposed New York's ban on large soda sizes.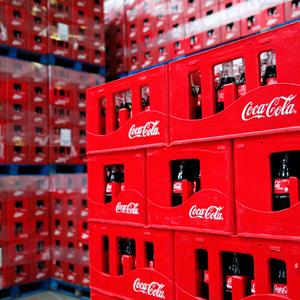 The beverage industry throws millions of dollars a year to nonprofit and educational organizations, particularly ones that serve blacks and Hispanics, The New York Times
reports
.
Is it just a coincidence, then, that Hispanic and African-American civil rights groups have opposed new laws that restrict soda consumption, such as the recently defeated regulation in New York City limiting serving sizes?
That's the question posed Tuesday by The Times and the advocacy group the Center for Science in the Public Interest, and there's no clear answer.
The soda industry has donated to such organizations as the National Association for the Advancement of Colored People, the National Hispana Leadership Institute and the National Hispanic Medical Association, The Times reports.
The NAACP and the Hispanic Federation joined the industry in opposing New York's ban, saying that corner markets and other small neighborhood stores were unfairly targeted by the legislation.
The suggestion is clear: Is the soda industry buying off its critics, one donation at a time?
All the parties involved say no. But the Center for Science in the Public Interest says the ties look suspiciously familiar, and are reminiscent of the way the tobacco industry donated to minority groups and then enlisted their help in the fight against smoking restrictions.

Perhaps  Black and Latinos are supporting the Beverage Industry as implied by this article because of contribution to their causes.  However, I like many other people resent a Mayor or any other individual or group taking away my basic right to choose and accept responsibilities for my decisions.  I made the decision many years ago to refrain from drinking sugar loaded Cola products for health concerns, and I think Blacks and Latinos are fully capable of making their own decisions on Beverages and many other products.  I feel this article is an insult to the basic intelligence and integrity of Blacks and Latinos.

Just one more nail in America's coffin. What I mean is the effort to tell us what and how much we can drink. Get Real! America has become the largest "Dictatorship" on the planet.  Our government runs around the world bullying and getting into everyones business. They try to dictate to other countries how they should do everything. Now they have turned on us, their own people.
Our forefathers told us we have an obligation, and a right to overthrow a government like we now have, with anymeans possible. What in the hell are we waiting for? Martial law? What are all the "Fema Camps" for, and the acres of plastic coffins near major U.S. cities?
We drink large amounts of cafinated drinks, to calm us down, from the intrusion of the darn government, who is making nervous wrecks of us all. Over 6000 new laws this year??? Good greif, there are so many laws now I cannot breath, and sometimes I feel like I'm being strangled.

Why not?  The Democrats have paid off Bribes to Union Groups for years. The Unions donate big time to the Politicians and the Politicians pay them off by stacking the deck with Union Supporters at the Federal Labor Relations Board. In Maryland, Martin O'Malley paid off the Unions for their support by FORCING EVERY STATE EMPLOYEE TO PAY A "FAIR SHARE FEE" (90% OF A UNION DUE). On pay stubs it is listed as "Union Dues".  How many people are aware that "Union Dues, Labor Organization Fees are tax deductible.  He guaranteed the Unions $4 million per from State Employees and IF those employees get a raise the Fee is raised by the same percentage as the pay raise.

you know this science center is the same people that made the theathers change their popcorn.... tried to trash the asian resturant industry (they havent used msg in asian food in most of ca in 30 years) and is generlly known as a bunch of food fanatic blowhards so take what they say with a grain of coconut oil covered msg ........
Are you sure you want to delete this comment?
DATA PROVIDERS
Copyright © 2014 Microsoft. All rights reserved.
Fundamental company data and historical chart data provided by Morningstar Inc. Real-time index quotes and delayed quotes supplied by Morningstar Inc. Quotes delayed by up to 15 minutes, except where indicated otherwise. Fund summary, fund performance and dividend data provided by Morningstar Inc. Analyst recommendations provided by Zacks Investment Research. StockScouter data provided by Verus Analytics. IPO data provided by Hoover's Inc. Index membership data provided by Morningstar Inc.
MARKET UPDATE
[BRIEFING.COM] The stock market finished the Tuesday session on the defensive after spending the entire day in a steady retreat. The S&P 500 (-0.6%) posted its third consecutive decline, while the small-cap Russell 2000 (-0.9%) slipped behind the broader market during afternoon action.

Equity indices were pressured from the start following some overnight developments that weighed on sentiment. The market tried to overcome the early weakness, but could not stage a sustained rebound, ... More
More Market News