Gun scrutiny spreads to toy shelves
Nerf guns and violent video games are targeted, but manufacturers note that they don't cause shootings in other countries.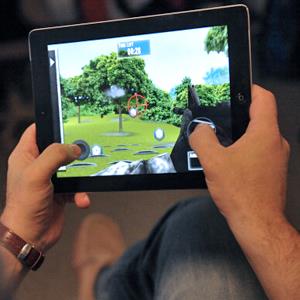 The gun debate hasn't reduced stockpiles of Nerf rocket launchers or "Call of Duty" games one bit.
After the killings in Newtown, Conn., last month, the gun-control debate migrated from gun shops to toy and video game stores with a little help from the National Rifle Association. While many American parents have begun questioning the merits of toy guns on the playground, the NRA put video games in its crosshairs a week after the elementary school shooting that killed 26 people -- including 20 young students.
"There exists in this country a callous, corrupt and corrupting shadow industry that sells, and sows, violence against its own people," Wayne LaPierre, executive vice president of the National Rifle Association, said during a press conference on Dec. 21. "Through vicious, violent video games with names like Bulletstorm, Grand Theft Auto, Mortal Kombat and Splatterhouse."
Don't forget Activision's (ATVI) "Call of Duty," Wayne. The most recent installment of that first-person shooter series -- "Call of Duty: Black Ops II" -- grossed $1 billion worldwide just 15 days after its Nov. 13 release and is still the second-best-selling game on the planet behind Capcom's "DMC." AdAge notes that the game's "Revolution" downloadable expansion pack, releasing Tuesday, gives players four new maps, the ability to play as zombies and a new weapon, the Peacekeeper hybrid SMG assault rifle.
Activision has refused to comment on accusations made by the NRA, which just released a shooting video game of its own, but maintains that "Call Of Duty" itself shouldn't shoulder the blame for violent incidents. As the game maker points out, "Call of Duty" is similarly popular in the United Kingdom, where the World Health Organization says there are 0.25 gun deaths per 100,000 people compared to 10 per 100,000 in the U.S. In France, where the gun death rate is only 3 per 100,000, "Call of Duty: Black Ops II" is still the most popular game in the land, according to video game tracking site VGChartz.
Hasbro (HAS), maker of Nerf guns, argued a similar point to AdAge about that toy's popularity in the U.K. Nerf products brought in roughly $410 million for Hasbro in 2011 and the company says the shooting in Newtown didn't diminish demand during the most recent holiday season.
"Nerf is all about active play and active fun. If you ask kids as young as when they're able to play, up through parents and grandparents, everyone understands that these are toys," John Frascotti, Hasbro's chief marketing officer, told AdAge.
It also helps that the toy industry has its own set of gun-control laws on the books. Federal and state laws require toys like Nerf and water guns to be made in non-gun neon colors or at least to have an orange tip for the muzzle. Toy guns like the far more authentic Airsoft guns, meanwhile, can only be marketed to ages 14 and older and are confined to store gun departments away from toys.
More on moneyNOW
DATA PROVIDERS
Copyright © 2014 Microsoft. All rights reserved.
Fundamental company data and historical chart data provided by Morningstar Inc. Real-time index quotes and delayed quotes supplied by Morningstar Inc. Quotes delayed by up to 15 minutes, except where indicated otherwise. Fund summary, fund performance and dividend data provided by Morningstar Inc. Analyst recommendations provided by Zacks Investment Research. StockScouter data provided by Verus Analytics. IPO data provided by Hoover's Inc. Index membership data provided by Morningstar Inc.
MARKET UPDATE
[BRIEFING.COM] After spending the first two hours of the trading day in a steady slide, the S&P 500 has maintained a four-point range over the past 60 minutes.

The materials sector (+0.1%) has been able to stay out of the red, but its slim gain is now in jeopardy following an orderly decline from the opening high. Steelmakers have factored into the retreat as evidenced by a 2.9% decline in the Market Vectors Steel ETF (SLX 47.23, -1.40). Miners haven't done much to turn the ... More
More Market News