Economic pressures revive horse-meat processing
The population of wild horses in the US is hard to manage. Although the thought might be hard to stomach, could using horses for food be a solution?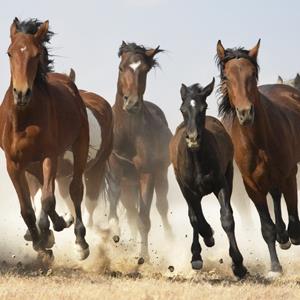 You'd think the days of wild horses roaming the U.S. are long gone, but there are still an estimated 85,000 here, under the responsibility of the U.S. Department of Interior's Bureau of Land Management.

And they're a huge headache for the bureau, too. Every year, the agency rounds up thousands of the animals in an effort to keep the number of wild horses in check.
"We have a huge problem -- out-of-control populations of wild horses and burros on our public lands," U.S. Interior Secretary Ken Salazar told the Washington Post in 2009. "The problem has been growing and simmering over time, and it's time for us to do something about it that protects the horses, the public lands and the taxpayers."
But what can you do with these animals? They are protected by the 1971 Wild Free-Roaming Horses and Burros Act -- which declared wild horses to be "living symbols of the historic and pioneer spirit of the West; that they contribute to the diversity of life forms within the Nation and enrich the lives of the American people."
Adding to the headache is Tom Davis, a 64-year-old livestock hauler who has bought more than 1,700 wild horses from the Bureau of Land Management since 2008, ProPublica reports. That's about 70% of all horses the agency sold.
This is a guy that had this to say in May, according to ProPublica:
"Hell, some of the finest meat you will ever eat is a fat yearling colt. What is wrong with taking all those BLM horses they got all fat and shiny and setting up a kill plant?"
It's not hard to connect the dots here. Davis reportedly signed agreements to not sell any of the horses for slaughter. But ProPublica says animal welfare advocates believe at least some of the horses purchased by Davis ended up in Mexican slaughter houses.
Inspection papers show that Davis sent 765 of those horses to towns in Texas near the Mexican border. As for the rest of them? Davis told ProPublica he found good homes but wouldn't give any paperwork showing where they went.

The BLM encourages the public to adopt the horses it captures. But ProPublica says most of those animals "instead go into a government-funded system of feedlots and pastures that hold more than 47,000 animals -- 10,000 more than are in the wild."
The American Wild Horse Preservation Campaign says keeping those wild horses off the range and in government care costs taxpayers more than $100,000 each day. And given the ongoing recession and a sustained drought across large parts of the U.S., there are concerns financial pressures may have led to some questionable BLM sales of wild horses.
For its part, the BLM says it "does not and has not sold or sent horses or burros to slaughter." But last week Interior Secretary Salazar announced he will restrict the number of horses people can buy -- and streamline government efforts to prosecute people buying horses for slaughter.
Given America's long love affair with horses, there's been a lot of backlash against the concept of slaughtering the animals for their meat. But late last year, Congress lifted a 5-year-old ban on federal funding for horse-meat inspections in the U.S. 
The reason the ban was lifted apparently boils down to basic economics. A Government Accounting Office report noted the slaughter horse market shifted to Canada and Mexico following the ban. As a result, it said, U.S. horse exports for slaughter from 2006 to 2010 increased by 148% to Canada -- and by 660% to Mexico. The report also attributed rising reports of horse abandonment and neglect in the U.S. "to cessation of domestic slaughter and the economic downturn."
There still aren't any U.S. horse meat processors. A New Mexico meat processing plant recently came under bipartisan criticism from state officials when the facility applied to slaughter horses. But there are groups hoping for a return of horse slaughterhouses in the near future.

"I have personally probably five to 10 investors that I could call right now if I had a plant ready to go," Dave Duquette, president of the pro-slaughter group United Horsemen, said in an interview last year with Associated Press."If one plant came open in two weeks, I'd have enough money to fund it. I've got people who will put up $100,000."
While many Americans may be appalled by the idea of eating a horse, equine flesh has been on the menu in Asia and Europe for centuries.
A survey conducted by market research company Ipsos Mori, says the biggest European importers and consumers of horsemeat are in Belgium, France and Italy -- and that the EU imported more than 61 million pounds of horsemeat from non-European countries last year, "including Canada and Mexico, where most of the horses come from the United States."
But ironically, European officials are now looking twice at any horse meat coming from the U.S. because of the amount of drugs used in race horses. About 80% of the horse meat processed in Mexico comes from the U.S. And the New York Times says up to 15% of U.S. horses sent for slaughter "may have performed on racetracks in the United States."
As for Davis, he admitted sending horses out of Colorado in violation of brand inspection law, ProPublica reports, and faces prosecution by the local district attorney.
Editor's Note: Bruce Kennedy worked for the National Cattlemen's Beef Association from April 2011 to April 2012. Other than his employment in NCBA's communications department, he is not involved in any way in the cattle industry, nor during his time with NCBA did he work on any issues related to the cattle industry's approach to wild horses. He has no relations with the BLM and figures used in this article, regarding the number of wild horses, both free and currently held in U.S. holding facilities, came from the American Wild Horse Preservation Campaign web site.

More from Money Now
DATA PROVIDERS
Copyright © 2014 Microsoft. All rights reserved.
Fundamental company data and historical chart data provided by Morningstar Inc. Real-time index quotes and delayed quotes supplied by Morningstar Inc. Quotes delayed by up to 15 minutes, except where indicated otherwise. Fund summary, fund performance and dividend data provided by Morningstar Inc. Analyst recommendations provided by Zacks Investment Research. StockScouter data provided by Verus Analytics. IPO data provided by Hoover's Inc. Index membership data provided by Morningstar Inc.
MARKET UPDATE
[BRIEFING.COM] Recent action saw the key indices inch to fresh lows for the session. Including today's decline of 0.8%, the S&P 500 is lower by 0.5% so far in September. Despite the loss for the month, the benchmark index has fared a bit better than its higher-beta peers. On that note, the Nasdaq has given up 1.3% so far this month, while the Russell 2000 is down 3.7% for the month. Elsewhere, the price-weighted Dow (-0.5%) trades ahead of the broader market today and is up 0.6% for the ... More
More Market News