$9 minimum wage: Jump start or job killer?
Business leaders seem mixed about the president's State of the Union call to raise the federal baseline wage.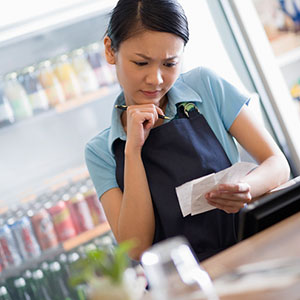 The media and blogosphere lit up Tuesday night after President Barack Obama's call for Congress to raise the federal minimum wage from $7.25 to $9 an hour -- and to tie the minimum wage to the cost of living.
"Even with the tax relief we've put in place, a family with two kids that earns the minimum wage still lives below the poverty line. That's wrong," he said in his State of the Union address.
Florida Sen. Marco Rubio, who delivered the Republican response to the president's speech, said mandating a minimum-wage hike won't help the economy or financially struggling Americans.
"Minimum-wage laws have never worked in terms of having the middle class have more prosperity," Rubio said during an interview on CBS This Morning. "Let's have a debate about growth and what generates growth because a minimum-wage law. . . is not the way to do it."
Along with the expected political opposition, the White House also is getting push-back from parts of the business sector, which sees a minimum-wage rise as a potential job killer.
"Hiring is already slow, arguably because of uncertainty over the impact of the health care insurance law," David Black, CEO of the Harrisburg, Pa., Regional Chamber and Capital Region Economic Development Corporation, told PennLive.com.
"I think a jump in minimum wage could cause job growth to actually slow nationwide," he said, "because it is [an] additional government mandate on businesses -- on top of health care and other regulations -- that businesses, particularly small businesses with limited capacity, must comply with."
Tim Mason, with the Rochester, N.Y., Small Business Council, says that while employers want their workers to earn more, they can't absorb an increase in labor costs.

"Think of your own household," Mason said in an interview with WHEC-TV. "If you found out tomorrow that your expenses were going to go up, something is going to have to give. What could that be? Hiring minimum-wage employees."
But New York's governor has already proposed a minimum-wage raise in his state, and some business leaders there approve.
"Raising the minimum wage will put more money in the pockets of workers who most need to spend those dollars," Darius Ross, managing partner of D Alexander Ross Real Estate Capital Partners and a member of Business for a Fair Minimum Wage, wrote in an op-ed piece on StarGazette.com.
"It will boost consumer spending at local businesses across the state. And nothing drives business owners like me to hire additional workers more than increased consumer demand."
Ross also cited data from the nonpartisan Economic Policy Institute, which says a proposed minimum wage increase would benefit 21 million U.S. workers and increase wages $22 billion by 2015.
More on moneyNOW
DATA PROVIDERS
Copyright © 2014 Microsoft. All rights reserved.
Fundamental company data and historical chart data provided by Morningstar Inc. Real-time index quotes and delayed quotes supplied by Morningstar Inc. Quotes delayed by up to 15 minutes, except where indicated otherwise. Fund summary, fund performance and dividend data provided by Morningstar Inc. Analyst recommendations provided by Zacks Investment Research. StockScouter data provided by Verus Analytics. IPO data provided by Hoover's Inc. Index membership data provided by Morningstar Inc.
MARKET UPDATE
[BRIEFING.COM] The stock market began the new week on a cautious note. The S&P 500 lost 0.3%, but managed to erase more than half of its opening decline. Thanks to the rebound, the benchmark index reclaimed its 50-day moving average (1976.78) after slipping below that level in the morning.

Equities slumped at the open amid a couple global developments that dampened the overall risk appetite. Continued student protests in Hong Kong and a potential response from China weighed on the ... More
More Market News