French irritated by Obama's inaugural 'champagne'
An industry group says bubbly planned for the inauguration lunch is mislabeled, but US law disagrees.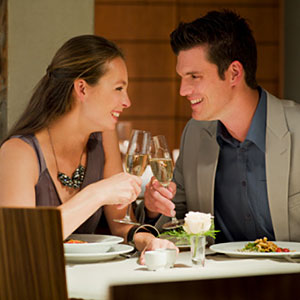 You know, French champagne lobbyists, you make it really difficult not to crack jokes about snooty waiters and cartoon skunks when you quibble over trifles like the bubbly being served at President Barack Obama's inaugural lunch.
Just to illustrate how the Champagne Bureau spends its time when not sniffing at tourists who mispronounce coq au vin or chasing a female cat that's accidentally had white paint spilled down its back, the industry group scolded the inaugural committee for recklessly throwing around the word "champagne" on its luncheon menu.

The committee decided to celebrate the president's swearing in with a version of Korbel Natural Russian River Valley Champagne, which the Champagne Bureau says is decidedly not champagne.
"We would urge the inaugural committee to follow that law and not state the sparkling wine being served is champagne, as they did in today's release," Sam Heitner, the director of the Champagne Bureau, told The Hill. "Champagne only comes from Champagne, France."
Except when it doesn't. Many countries around the world restrict the use of "champagne" to sparkling wine from the Champagne region, but U.S. law is a bit different. The Alcohol and Tobacco Tax and Trade Bureau has spelled out when wineries can use certain designations and just how they can use them. The use of the term "champagne" is protected under the "semi-generic" law 27 CFR 4.24, which dictates that the word can be applied only to sparkling wines produced before 2006, as long as their point of origin is clearly spelled out on the label. This is where the Champagne Bureau and the inaugural committee agree to disagree.
"U.S. law clearly states that the full name of the wine label must include where it comes from," Heitner told The Hill. "Under the law, the label for this wine would state 'California Champagne.'"
Perhaps some portion of the label was lost in translation, as the inaugural committee's press release indicates that the sparkling wine being served with dessert is "Korbel Natural, Special Inaugural Cuvée Champagne, California." Though the "California" portion seems to clearly indicate the wine's home state, Heitner insists it's still a violation of U.S. law.
This isn't Brown-Forman (BF.A) subsidiary Korbel's first go-round with the Champagne lobby. Founded in 1882 by two Czechoslovakian brothers, Korbel has used "Champagne" to describe its sparkling wine for more than a century and is often grandfathered into Champagne designation laws by using the "California Champagne" label. It's been served at six inaugurations, including president Obama's last in 2009.
For now, France itself is sitting out this bubbly battle, as it is far too preoccupied with its transition back to a socialist government and the tax-driven departure of actor Gerard Depardieu to notice. People involved with planning the inauguration seem not to care what the Champagne Bureau has to say about their wine selection either.
"The Champagne Lobby should have a glass of their own product and relax," said Matt House, a spokesman for the Joint Congressional Committee on Inaugural Ceremonies.
More on Money Now
DATA PROVIDERS
Copyright © 2014 Microsoft. All rights reserved.
Fundamental company data and historical chart data provided by Morningstar Inc. Real-time index quotes and delayed quotes supplied by Morningstar Inc. Quotes delayed by up to 15 minutes, except where indicated otherwise. Fund summary, fund performance and dividend data provided by Morningstar Inc. Analyst recommendations provided by Zacks Investment Research. StockScouter data provided by Verus Analytics. IPO data provided by Hoover's Inc. Index membership data provided by Morningstar Inc.
MARKET UPDATE
[BRIEFING.COM] The stock market finished the Tuesday session on the defensive after spending the entire day in a steady retreat. The S&P 500 (-0.6%) posted its third consecutive decline, while the small-cap Russell 2000 (-0.9%) slipped behind the broader market during afternoon action.

Equity indices were pressured from the start following some overnight developments that weighed on sentiment. The market tried to overcome the early weakness, but could not stage a sustained rebound, ... More
More Market News