Flight delays get rare cooperative action in Congress
Lawmakers from both parties agree to more funding for the FAA to relieve sequester-prompted furloughs of air traffic controllers.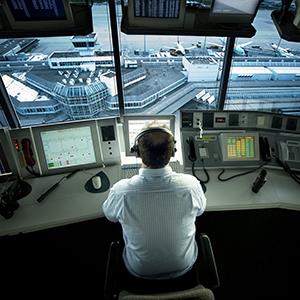 It's been a rough week for air travelers in the U.S., as the automatic federal spending cuts required by the sequester kicked in. Furloughs were triggered for about 15,000 Federal Aviation Administration air traffic controllers as part of the FAA's $600 million, across-the-board budget cuts.
The resulting flight delays at major cities like Los Angeles, Chicago and New York were expected, but they came with a vengeance. According to FAA data quoted by CNN more than 3,000 flights have experienced significant delays since last Sunday, thanks to reduced staffing of air traffic controllers.
But late Thursday night, just as Congress was planning its Friday getaway from Washington for a week-long recess, the Senate unanimously passed a plan to ease those FAA spending cuts. The U.S. House of Representatives passed it on Friday, and President Barack Obama is likely to sign it shortly.
The three-page bill allows for up to $253 million dollars to be moved into the FAA's operations budget. That would end -- if only for the moment -- the air traffic controller furloughs. But it's unclear if that funding could be used to help restaff the nearly 149 air traffic control towers at smaller, regional airports that were also hit by sequestration.
As expected, lawmakers declared a victory as they packed up to go home. "Something rare has happened in Washington," Sen. Jerry Moran, R-Kan., told WSB Radio, "the Senate came together on a bipartisan basis."
"We should not allow sequestration to cripple travel, tourism, business and commerce," added Sen. Mark Udall, D-Colo.
The White House said it welcomed Congress' action, but noted it was a short-term solution to the larger issues caused by the sequestration.

"It will be good news for America's traveling public if Congress spares them these unnecessary delays," White House spokesman Jay Carney said in a statement quoted by Reuters. However, Carney added, "this is no more than a temporary Band-Aid that fails to address the overarching threat to our economy posed by the sequester's mindless across-the-board cuts."
The airlines have been clamoring this week for the government to do something to resolve the air traffic controller issue. "Common sense tells all of us that this can't go on," Southwest Airlines (LUV) CEO Gary Kelly told Bloomberg on Thursday. "It does need a quick resolution."
DATA PROVIDERS
Copyright © 2014 Microsoft. All rights reserved.
Fundamental company data and historical chart data provided by Morningstar Inc. Real-time index quotes and delayed quotes supplied by Morningstar Inc. Quotes delayed by up to 15 minutes, except where indicated otherwise. Fund summary, fund performance and dividend data provided by Morningstar Inc. Analyst recommendations provided by Zacks Investment Research. StockScouter data provided by Verus Analytics. IPO data provided by Hoover's Inc. Index membership data provided by Morningstar Inc.
MARKET UPDATE
[BRIEFING.COM] The Dow Jones Industrial Average, Nasdaq Composite, S&P 500 and S&P 400 are each up 0.2% in what has been a choppy trade today. It is peculiar to see such uniformity in returns. If we didn't know any better, we'd say the computers are calling the shots today.

Whatever the case may be, it is evident that the market isn't going to cough up last week's gains easily -- certainly not today anyway.

Large-cap and mid-cap issues look to be the outlet of ... More
More Market News
TOP STOCKS
Are Netflix earnings a 'House of Cards'
Momentum stocks have taken a beating over the last few weeks so tech investors will be looking for positive news out of Netflix earnings after the close on Monday.