Paycheck shock socks consumer confidence
The end of a payroll tax break and mixed economic signals from Congress have erased all the gains made by the Consumer Confidence Index in 2012.
What led to January's dismal consumer confidence numbers?
We've had recent signs the economy's been warming up -- better housing, car sales and employment data, for instance. And there have been indications the American public was a bit more optimistic about its collective financial future; that we might actually be seeing the light at the end of this recession tunnel.
But the Consumer Confidence Index, which was down in December, fell again this month -- erasing all the gains it had made in 2012.
"Consumers are more pessimistic about the economic outlook and, in particular, their financial situation," Lynn Franco, Director of Economic Indicators at The Conference Board said in a
press statement
. "The increase in the payroll tax has undoubtedly dampened consumers' spirits and it may take a while for confidence to rebound and consumers to recover from their initial paycheck shock."
Many Americans are indeed doing double-takes when they look at their paychecks. The two-year "holiday" workers had on their Social Security payroll tax -- which pushed that tax rate down to 4.2% from 6.2% in the hopes of increasing consumer spending -- is over.
The constant political bickering on Capitol Hill over the economy hasn't helped consumer confidence levels, either.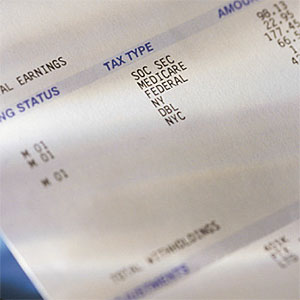 "All the negative news about the dysfunction in Washington surrounding the fiscal cliff negotiations contributed to the December plunge," notes Joshua Shapiro, chief U.S. economist at MFR, in an interview with Associated Press, "and ongoing shenanigans concerning the debt ceiling and fiscal sanity in general continued to weigh in January."
And while we may be helping to keep Social Security afloat, the increased payroll taxes mean most Americans will have to work harder to make their shrinking paychecks go further.

"For the average person, it's going to take more discipline than ever to offset this payroll tax hike," CJM Wealth Management CEO Charles Massimo recently told NBC News.
Some experts believe the increased payroll tax could change consumer shopping patterns.

Lee Boggs, a political marketing professor at West Virginia University, says the payroll tax increase comes as a major financial jolt for families still paying off their holiday bills -- as well as dealing with the usual monthly expenses.
"How many people spent and charged during the holidays based on their 2012 take home pay, not considering that their take home pay would be $40-$80 a month less in January 2013?" he said in the Tarboro, N.C., Daily Southerner.

"Now they're bringing home less but they are still responsible for those contracts. Couple that with holiday debt and some middle class people could be facing serious financial challenges right now."
And it's not just the middle class facing some stark economic choices.
"The people at the lowest incomes are going to be the most stretched, the least able to take it out of savings and sustain their spending pattern," economist Joel Naroff commented in USA Today.
More on moneyNOW
DATA PROVIDERS
Copyright © 2014 Microsoft. All rights reserved.
Fundamental company data and historical chart data provided by Morningstar Inc. Real-time index quotes and delayed quotes supplied by Morningstar Inc. Quotes delayed by up to 15 minutes, except where indicated otherwise. Fund summary, fund performance and dividend data provided by Morningstar Inc. Analyst recommendations provided by Zacks Investment Research. StockScouter data provided by Verus Analytics. IPO data provided by Hoover's Inc. Index membership data provided by Morningstar Inc.
MARKET UPDATE
[BRIEFING.COM] The stock market finished the Tuesday session on the defensive after spending the entire day in a steady retreat. The S&P 500 (-0.6%) posted its third consecutive decline, while the small-cap Russell 2000 (-0.9%) slipped behind the broader market during afternoon action.

Equity indices were pressured from the start following some overnight developments that weighed on sentiment. The market tried to overcome the early weakness, but could not stage a sustained rebound, ... More
More Market News