So long, soda: Water is top US beverage
New figures show H2O has replaced carbonated drinks as the favored national thirst quencher.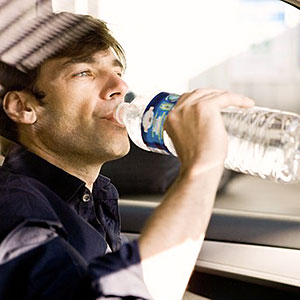 The decades-long and seemingly unquenchable passion Americans once had for sugary, carbonated drinks is losing its fizz. More consumers are returning to a bland but readily available and transparent standby: water.
The Associated Press, quoting data from Beverage Digest, reports water has surpassed soda as the national drink of choice.
Americans now consume an average of 44 gallons of soda a year -- down 17% from the 1998 peak -- while the average amount of water consumed annually jumped 38% to about 58 gallons.
Two factors are apparently at play with these new figures.
First is soda's part in the obesity epidemic. Harvard University School of Public Health notes a typical 20-ounce soda contains up to 240 calories -- with 15 to 18 teaspoons worth of sugar. And those are empty calories to boot, since drinking a soda doesn't create the feeling of fullness that solid food gives. Similar dire warnings about the dangers of "liquid candy" have apparently gotten through to a lot of American consumers.
At the same time, beverage companies have been successfully marketing and packaging bottled water for consumers looking for an alternative. The AP reports the average individual's consumption of bottled water in the U.S. -- especially in smaller, easily portable bottles -- has doubled since 1998 to about 21 gallons per year. And industry data show revenue for the U.S. bottled-water market in 2010 was around $10.6 billion, rising 0.2% over the previous year.
Of course, bottled water has also come under criticism as a new source of trash and pollution. And some towns and universities are looking to enforce bans on bottles or at least those under one liter.
And lest we forget, you can still get all the safe drinking water you want at home for a lot less than it costs to buy it in soda-like containers.
"Good old marketing has convinced people that they should spend a lot of money on bottled water," Salome Freud, chief of New York City's distribution water quality operations, told AP.
DATA PROVIDERS
Copyright © 2014 Microsoft. All rights reserved.
Fundamental company data and historical chart data provided by Morningstar Inc. Real-time index quotes and delayed quotes supplied by Morningstar Inc. Quotes delayed by up to 15 minutes, except where indicated otherwise. Fund summary, fund performance and dividend data provided by Morningstar Inc. Analyst recommendations provided by Zacks Investment Research. StockScouter data provided by Verus Analytics. IPO data provided by Hoover's Inc. Index membership data provided by Morningstar Inc.
MARKET UPDATE
[BRIEFING.COM] The S&P 500 (-0.1%) continues hovering right below its flat line with heavily-weighted sectors like financials (-0.2%), industrials (-0.1%), and technology (-0.5%) pressuring the broader market.

On the upside, countercyclical telecom services (+0.6%) and utilities (+0.7%) sport solid gains, but the two groups carry little influence over the broader market since they represent just 5.4% of the entire S&P 500. Meanwhile, the top-weighted sector-technology-accounts ... More
More Market News
TOP STOCKS
Up next: The biggest bank IPO ever
The expected $3.36 billion offering from Citizens Financial Group won't come close to Alibaba's, but it will be an important one for the market.