America's most popular export: The $100 bill
Prized among black-marketers, criminals and shaky economies alike, 65% of all Benjamins live outside US borders.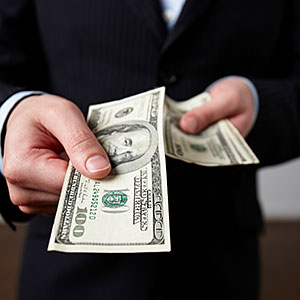 So, what is America great at exporting these days?
Cars? Toyota (TM) just reclaimed its No. 1 spot in global sales from General Motors (GM). Beer? That assumes MolsonCoors (TAP) and Anheuser-Busch InBev (BUD) don't have headquarters in Canada and Belgium. Gadgets? Please.
Fortunately, the rest of the world still wants our cash, and the higher the denomination the better. Former Reagan and George H.W. Bush administration staffer Bruce Bartlett points out on The New York Times' Economix blog that a new report from the Federal Reserve Bank of San Francisco says U.S. cash is not only flourishing against global competition but thriving in the world market.
Currently, 42% more cash is in circulation than five years ago, and the dollar's anonymity is a big reason why. Sure, pallets of it made their way around the world in recent years to places like Iraq -- where the dollars were promptly absconded with -- but the prevailing theory is that the greenback has become the denomination of choice for the world's criminals.
Drug dealers, tax evaders and other cash-hoarding members of the underground economy have made Mr. Benjamin Franklin and his $100 bill a popular world traveler in recent years. Roughly 84% of the new cash in circulation since 1990 has been in the form of $100 bills. They made up 77% of the value of all cash in circulation in 2012, up from just 52% in 1990.

As Bartlett notes, anyone who wants to stash $1 million away from Uncle Sam or exchange it for something the government doesn't like only needs a bunch of $100 bills, a large briefcase and some motivation.
Meanwhile, the amount of U.S. currency being held abroad has jumped from $280.4 billion in 1990 to more than $454 billion today. The Commerce Department considers it an increase in foreign-owned assets in the U.S. -- kind of like a zero-interest loan. But folks in financially troubled countries like Greece and Cyprus have better reasons for hoarding hundreds than propping up the U.S. deficit.
The European economic crisis isn't instilling much faith in the euro, while the BBC notes that large 500-euro denominations are being taken out of circulation as a crime-fighting measure.
That's making suitcases, briefcases, trunks and mattresses full of $100 bills a lot more popular. According to yet another Federal Reserve study, 65% of all $100 bills in existence circulate outside the U.S.
While struggling Americans would surely rather see a few of those hundreds in their own pockets, it's nice to know America is still producing something the rest of the world loves.
DATA PROVIDERS
Copyright © 2014 Microsoft. All rights reserved.
Fundamental company data and historical chart data provided by Morningstar Inc. Real-time index quotes and delayed quotes supplied by Morningstar Inc. Quotes delayed by up to 15 minutes, except where indicated otherwise. Fund summary, fund performance and dividend data provided by Morningstar Inc. Analyst recommendations provided by Zacks Investment Research. StockScouter data provided by Verus Analytics. IPO data provided by Hoover's Inc. Index membership data provided by Morningstar Inc.
MARKET UPDATE
[BRIEFING.COM] The stock market began the new week on a cautious note. The S&P 500 lost 0.3%, but managed to erase more than half of its opening decline. Thanks to the rebound, the benchmark index reclaimed its 50-day moving average (1976.78) after slipping below that level in the morning.

Equities slumped at the open amid a couple global developments that dampened the overall risk appetite. Continued student protests in Hong Kong and a potential response from China weighed on the ... More
More Market News