Here's your degree -- and a lawsuit
Some universities are suing students who can't or won't repay their school loans.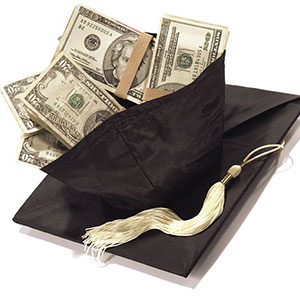 Compared with earlier generations,  current college students face a very different world once they enter the workforce. Unemployment remains high, entry-level jobs are scarce, and many available jobs require skills that simply did not exist 20 and even 10 years ago.
Recent graduates are also having more trouble paying off their college loans, and many are being threatened with legal action from their alma maters for nonpayment of tuition and other bills.
The University of Pennsylvania filed six lawsuits against former students in November, demanding repayments from $13,000 to $27,000. A university spokeswoman told the
Daily Pennsylvanian
that students who graduate or leave the university with an outstanding balance will see their debt transferred to the school's collections office. Past-due balances, she said, are subject to a late-payment penalty of 1.5% per month.
And universities have other unique ways of pressuring students who can't or won't pay their bills. Kenya Shujaa, a former graduate student at Penn, faced a lawsuit and also saw the university withhold access to her transcript, which she said "limited the kinds of jobs that I could have." But Shujaa, who settled her debts last year, says she understands the university's actions. "That's the rule when you owe them money," she said.
Students who borrowed funds for college and earned bachelor's degrees in 2011 left school with an average of $26,600 in student loan debt, up 5% from 2010, according to a recent report by the Project on Student Debt, by The Institute for College Access and Success.
Last year, the
Department of Education
reported a 13.4% national student loan default rate -- with for-profit institutions having the highest average three-year default rate of 22.7%, public institutions at 11% and private, nonprofit schools at 7.5%.
"We continue to be concerned about default rates and want to ensure that all borrowers have the tools to manage their debt," U.S. Secretary of Education Arne Duncan said in a press release. "In addition to helping borrowers, we will also hold schools accountable for ensuring their students are not saddled with unmanageable student loan debt."
Not surprisingly, educators say getting a college degree increases a student's chances of finding a job that pays well. But some also stress that both students and parents need to educate themselves about the loan process.
"Students and parents need to know that, even at similar looking schools, debt levels can be wildly different," said Lauren Asher, the president of The Institute for College Access and Success. "And if they do need to borrow to get through school, federal student loans, with options like income-based repayment, are the safest way to go."
More on moneyNOW
MARKET UPDATE
[BRIEFING.COM] The Russell 2000 crosssed the 1,000 level for the first time ever today and the S&P 500 established a new all-time, intraday high. Those were some of the more memorable highlights of what was an otherwise nondescript day of trading.

By and large, there just wasn't a lot of conviction on the part of either buyers or sellers. The major indices spent time on either side of the unchanged line, but never put a whole lot of distance between themselves and ... More
More Market News
TOP STOCKS
Silver takes a dive, then sees a rebound
Bargain hunting gives silver a boost after a nasty dive in overnight markets. But worries about rising interest rates and a possible U.S. debt downgrade gives the metal a boost.