Why Chevy's 46-mpg diesel Cruze is a big deal
The fuel-thrifty car now leads a fleet of vehicles that proves Detroit can compete with foreign rivals more known for fuel efficiency.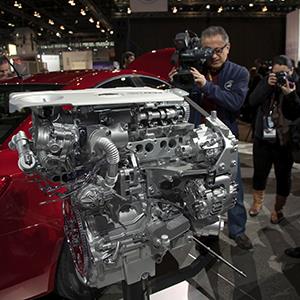 Remember when automakers in Detroit were racing to build the largest, least fuel-efficient "light truck" sport-utility vehicle on the road? My, how times have changed.
With Hummer dead, the SUV crowd shifting to smaller crossovers and companies such as Tesla (TSLA), Toyota (TM), Nissan (NSANY) and Honda (HMC) encroaching on both the luxury and commuter markets with plug-ins and hybrids, the folks at Ford (F) and General Motors (GM) had to adapt quickly.

And GM showed just how quickly it has caught up by announcing Thursday that its 2015 Chevrolet Cruze Diesel will get a whopping 46 miles per gallon on the highway, beating previous estimates.
That's not just some one-off number, either. Back in January, Kelley Blue Book compiled its list of the 25 cars hitting the road in 2013 with combined city and highway mileage of 40 mpg or better. GM and Ford alone accounted for six of the cars on the list. While that's still somewhat low compared with the nine 40-mpg cars Toyota produces through its main, Lexus and Scion brands, it's an accelerated step in the right direction for Detroit.
It's also a move the car companies have little choice in making. Under the latest fuel economy standards from the Obama administration, carmakers' new vehicle fleets will have to average 35.5 mpg or better by 2016 to be sold in the U.S. The price for missing that mark is $5 for every 0.1 mile over the bar for each vehicle produced.
That's a tough number to meet, even with the restrictions relaxed to just 26 mpg for trucks. But despite early wailing about how impossible that task would be, the U.S. automakers seem up to task.
Cars like the Chevy Volt plug-in hybrid are already on the road, but newer models like Ford's C-Max line of Prius-style hybrids and plug-in hybrids and the all-electric Ford Focus are adding to U.S. automakers' high-mileage presence.
In fact, the Focus is now the subject of a dispute between Ford and Toyota over who makes the world's best-selling car. Ford claims it's the Focus and cites automotive research firm R.L. Polk's numbers to back it up. Toyota claims that Ford is nuts and that the Corolla is clearly the best seller by 300,000 rebranded units that Polk isn't counting.
That Ford is even in this position after having reported its largest loss in company history in 2006 and having had its corporate bonds considered junk as recently as last year is nothing shy of remarkable.

That GM is producing a diesel Cruze and regaining market share little more than four years after its bankruptcy and government takeover is just as solid a reason for Detroit to rev its engines again.
DATA PROVIDERS
Copyright © 2014 Microsoft. All rights reserved.
Fundamental company data and historical chart data provided by Morningstar Inc. Real-time index quotes and delayed quotes supplied by Morningstar Inc. Quotes delayed by up to 15 minutes, except where indicated otherwise. Fund summary, fund performance and dividend data provided by Morningstar Inc. Analyst recommendations provided by Zacks Investment Research. StockScouter data provided by Verus Analytics. IPO data provided by Hoover's Inc. Index membership data provided by Morningstar Inc.
MARKET UPDATE
[BRIEFING.COM] The stock market is doing pretty much what it was expected to do today in front of the FOMC decision (i.e. nothing). The major indices are little changed as traders wait anxiously for the Fed's latest directive and updated economic projections.

Everyone is waiting to see if the "considerable time" language is maintained in the directive after Wall Street Journal Fed watcher, Jon Hilsenrath, suggested yesterday it could be.

Mr. Hilsenrath's article ... More
More Market News