Airlines stick with Boeing despite Dreamliner drama
A series of problems have beset the much-hyped aircraft. And federal regulators have taken notice.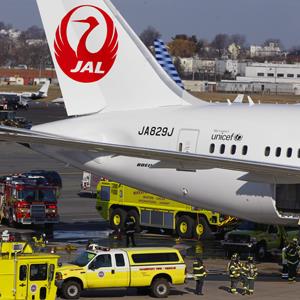 Updated 10:56 a.m. ET
The radical design of
Boeing's
(
BA
) 787 Dreamliner is light years ahead of its competitors, enabling it use less fuel than more conventional aircraft. 
Airlines seem to be willing to cut the aerospace giant some slack as it works through some embarrassing technical glitches. Their patience, however, will be put to the test as the Federal Aviation Administration conducts a comprehensive review of the Dreamliner to address the problems. 
Boeing has delivered 50 Dreamliners, and it seems likely that some orders are on hold pending the results of the FAA's review.
The
FAA
will look at the design, manufacture and assembly of the much-hyped aircraft in conjunction with the company. Perhaps Boeing should change the 787's name to "Murphy's Law" because everything that could go wrong with the state-of-the-art aircraft has gone wrong. The National Transportation Safety Board is conducting a separate probe of a Jan. 7 fire in Boston in a battery pack that occurred after passengers disembarked.
Boeing, which delayed releasing the Dreamliner for nearly four years because of numerous technical glitches, is standing behind its product which promises to fly people farther, faster and at a lower cost than more conventional aircraft. Indeed, it is telling that the FAA didn't order the grounding of all Dreamliners, which had its first flight in 2011. Such an action, though, could still happen if serious problems are uncovered by the FAA. Transportation Secretary Ray Lahood said the officials want to make sure that the problem with Dreamliner don't happen again. 
There is plenty to talk about in the wake of reports of fuel leaks and electrical problems. Earlier Friday, a 787 Dreamliner operated by All-Nippon Airways landed safely in Tokyo after a crack was found in the cockpit window. Another All-Nippon crew reported an oil leak in another Dreamliner.

--Jonathan Berr does not own shares of the listed stocks. Follow him on Twitter @jdberr.
More on Money Now

I'm sorry for Boing but I think they over worked this plane with technology that was not ready for aircraft. Plus I think its manufacturing proccess is flawed and full of problems. Hard to say if its the assemblers that are to blame or the parts suppliers or the design. But obviously this plane is looking more like a lemon everyday.
Are you sure you want to delete this comment?
MARKET UPDATE
[BRIEFING.COM] Stocks ended modestly higher as the S&P 500 climbed 0.2%, and the Dow added 0.4% to register its 19th consecutive Tuesday of gains.

The major averages saw little change during morning action, but afternoon buying interest helped lift the indices to session highs. Most cyclical sectors (with the exception of materials and technology) finished among the leaders, but the defensively-geared health care sector settled atop the leaderboard as biotechnology outperformed. ... More
More Market News
TOP STOCKS
S&P 500 forecast to hit 2,100 by 2015
As the stock market reaches new highs, Goldman Sachs sees more gains ahead. Fueling the market: An improving economy, growing dividends and low interest rates.