This could be curtains for many movie theaters
The film industry plans to complete its costly conversion from film to digital projectors by year-end -- which many small movie houses can't afford.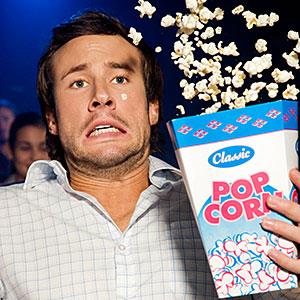 It really is the end of an era for a lot of movie theaters and their customers, especially at independent movie houses in areas where the chains like Regal (RGC) and AMC (purchased last year by a Chinese conglomerate) don't operate. That's because the film industry is getting ready to complete its conversion from film to digital movie projectors.
This change has been coming for over a decade, but the switch to digital projectors was slowed by the new devices' expense -- and arguments between theater owners and Hollywood over who would absorb those costs.
Gary Susman at Moviefone notes the film studios "stand to save as much as $1 billion per year on the cost of striking and shipping film prints, once they can simply stream or email a digital file to every booked screen with a single click." But that savings wasn't passed on to the movie houses, which have to pay about $70,000 to $80,000 per screen to convert to digital projectors.
And it's the small-town theaters -- some of them "movie palaces" that witnessed the conversion from silent films to talkies nearly a century ago -- that stand to suffer the most when digital projection is the norm across North America by year-end.
"We're at the mercy of the industry," Linda Epperson, whose family runs Creekside Cinema in Cañon City, Colo., recently told the Daily Record. The four-screen Creekside and Cañon City's other theater, the 95-year-old Skyline, may have to close unless they can find funding to convert their projectors to digital.
The Theatre Historical Society of America estimates the U.S. has between 500 and 750 historic theaters currently showing movies, and it says digital conversion could end their survival as community businesses.
"This is another major threat to these theaters which were largely rescued and restored by grass-roots local efforts," Karen Colizzi Noonan, the society's president, told The Associated Press. "It is so sad that after all that hard work and dedication these groups now face another huge challenge just to survive."

Some small theaters, like Creekside Cinema, are looking to the online platform Kickstarter, which helps fund creative projects. Taking another approach, Ongara Theater in Illinois is appealing directly to its customers to help finance the conversion through the purchase of movie-screen ads, T-shirts and gift certificates.

And some economic help may be on the way for small movie theater "exhibitors." Late last autumn, Bloomberg reported that Cinedigm Digital Cinema (CIDM) and the National Association of Theatre Owners are working out flexible funding, loans and reimbursement from the film studios to help cover conversion costs for some movie houses.

But many small, independent operators wonder if their days are numbered. "We're not trying to scare people," Fred Kaplan-Mayer, executive director for the Hiway Theater in suburban Jenkintown, Pa., told Philly.com in January. But, he added, "if we don't have a digital projector, we will not be able to participate in the movie industry."
DATA PROVIDERS
Copyright © 2014 Microsoft. All rights reserved.
Fundamental company data and historical chart data provided by Morningstar Inc. Real-time index quotes and delayed quotes supplied by Morningstar Inc. Quotes delayed by up to 15 minutes, except where indicated otherwise. Fund summary, fund performance and dividend data provided by Morningstar Inc. Analyst recommendations provided by Zacks Investment Research. StockScouter data provided by Verus Analytics. IPO data provided by Hoover's Inc. Index membership data provided by Morningstar Inc.
MARKET UPDATE
[BRIEFING.COM] The stock market began the new week on a cautious note. The S&P 500 lost 0.3%, but managed to erase more than half of its opening decline. Thanks to the rebound, the benchmark index reclaimed its 50-day moving average (1976.78) after slipping below that level in the morning.

Equities slumped at the open amid a couple global developments that dampened the overall risk appetite. Continued student protests in Hong Kong and a potential response from China weighed on the ... More
More Market News