You can still run the Boston Marathon -- for a price
Numbers for the race are being sold online, and the event's organizers can't really do much about it.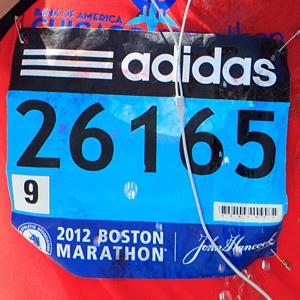 Are you tired of telling people you "ran" in the Boston Marathon when you really just loaded up on pasta in the North End the night before and spent half of Patriot's Day buying overpriced beers at Fenway Park and the other half joining the pack from the comfort of an Irish pub on Beacon Street?
Well cheer up, lazy: The free market can make your marathon dream come true.
Forget about all those months of training or about even attempting a light jog from Hopkinton to Copley Square. According to Boston Magazine, all you need to get a bib to race in this year's marathon is a few hundred dollars and some Internet access.
On Tuesday, the magazine noted that marathon bibs could still be found on Craigslist and eBay (EBAY) a week before the April 15 event. Granted, supplies immediately dried up after the magazine ratted out all the sellers, but bib numbers that were selling for $300 to $350 are still in demand among desperate runners.
For marathon procrastinators and Boston-area poseurs, the secondary market has been a scoundrel's refuge. While actual marathon runners wear their Adidas-made qualifying jackets around the Common and Esplanade for weeks afterwards as badges honoring their dedication and athletic achievement, folks who spent Marathon Monday scarfing leftover runners' pizza at the Crossroads Pub can wear those same jackets after a quick trip to eBay.
Marathon organizers are well aware that a few race numbers end up being resold -- either because of injury, emergency or outright greed -- and they monitor bib sales online. But they can't do much about it, either, as the original bib-holder goes into the event's official training book and entitles the number to a spot in the race.
Even if bibs can't be found online, they can fetch a much larger fee from charitable organizations that need the cash. Runners looking to raise funds for charity can get more lenient qualifying times and delayed starting positions as long as they raise $4,000 or so and complete their training. Last year, Boston Magazine said nonqualifiers were offering $3,000 for numbers, and charitable organizations were letting numbers go to anyone who could raise $4,000 in time for the race.
The Boston Athletic Association insists that buying those numbers secondhand is a risky proposition that leaves the association with little information about a runner should he or she get injured. But it's not necessarily a huge financial blow for the BAA or the race itself.
Of the roughly $7 million it costs to put on the Boston Marathon each year, 70% (or about $5 million) comes directly from sponsors. While that's potentially troubling during economic slumps, the BAA has locked down key sponsor Adidas through 2023, and it has retained its featured sponsor, Manulife Financial's (MFC) John Hancock, through 2024. Tack on contributions from Samuel Adams brewer Boston Beer Co. (SAM), Coca-Cola's (KO) Gatorade, Nissan (NSANY), AT&T (T), JetBlue (JBLU) and Nestlé's (NSRGY) Poland Spring and PowerBar, and you have a sporting event as financially sound as anything at Fenway.
Only here, the items being resold online actually get you into the action.


Once again, the media can't report correctly.  No benefits are being CUT.  If you got 1600 dollars last month, you will get 1600 next month.  What is being CUT is the speed at which it grows.  This is something all governmental departments and groups should learn.  They get an x% bump each year.  If there is a "budget cut" it only means the rate of growth is cut back.  Sequestration was the same thing.  Instead of DOD getting 10% more money, they only got 7% more.  The way it has been portrayed by the media and those in government, you would think budgets had been slashed.  Only by crying that the sky is falling can politicians keep their power and control over the American people.  If you would educate yourselves and see them as the true snakeoil salesman that they are and demand that term limits be amended to the Constitution, and them vote the bums out, we can take back our country.


I am a 2.19 marathoner and I am still trying to get into Boston. I watched my wife compete there in 2008 finishing with a 3.23 time. I have never seen such support for the running community as I did at that race. The best distance running tip I can give for runners wanting to compete in a marathon is to give it your best shot and try to get under Boston's qualification standards.  As stated in the article there are plenty of ways to get accepted. 
www.rundreamachieve.​com
Are you sure you want to delete this comment?
DATA PROVIDERS
Copyright © 2014 Microsoft. All rights reserved.
Fundamental company data and historical chart data provided by Morningstar Inc. Real-time index quotes and delayed quotes supplied by Morningstar Inc. Quotes delayed by up to 15 minutes, except where indicated otherwise. Fund summary, fund performance and dividend data provided by Morningstar Inc. Analyst recommendations provided by Zacks Investment Research. StockScouter data provided by Verus Analytics. IPO data provided by Hoover's Inc. Index membership data provided by Morningstar Inc.
MARKET UPDATE
[BRIEFING.COM] The stock market finished an upbeat week on a mixed note. The S&P 500 shed less than a point, ending the week higher by 1.3%, while the Dow Jones Industrial Average (+0.1%) cemented a 1.7% advance for the week. High-beta names underperformed, which weighed on the Nasdaq Composite (-0.3%) and the Russell 2000 (-1.3%).

Equity indices displayed strength in the early going with the S&P 500 tagging the 2,019 level during the opening 30 minutes of the action. However, ... More
More Market News