Coke's personalized bottle promotion backfires
By using a limited list of people's names for its Share A Coke campaign, the company has done itself more harm than good.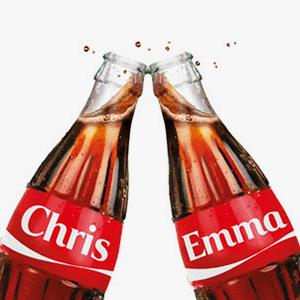 Every few decades or so,
Coca-Cola
(
KO
) gets high-minded notions of uniting the world under its red-and-white logo and showering it with fizzy brown beverage.
In 1971, TV viewers worldwide were subjected to a Coca-Cola ad featuring people singing on a hilltop about the company's desire to instill global harmony by having folks buy their neighbors some soda. When that notion failed in tragic fashion at the Munich Olympics a year later, Coca-Cola put a cap on it for 20 years before getting everybody back on the hill for a Super Bowl reunion. Again, the timing wasn't great.
This year, however, Coca-Cola figured it would stop the singing altogether and allow fans in Europe, Israel and other places outside the U.S. to put friends' names on bottles of Coke in the spirit of global togetherness. Of course, that works only if you don't limit the names to some arbitrary list of the most popular monikers.
Coca-Cola's latest attempt at a global hug has been rebuffed, and National Public Radio says the company can thank its short list of accepted names in each participating country for the backlash. Furious fans with overlooked names like Libby, Beverly, Graziella and Rhiannon took to Coca-Cola's Share A Coke Facebook (FB) page to share their outrage.
Those were just the folks who decided to go easy on the maker. The Washington Post reports that an Arab-Israeli person petitioned an Israeli court over the lack of Arab names on Coca-Cola's list, calling it discriminatory. Russian- and Ethiopian-Israeli immigrants have voiced similar complaints.
In Sweden, the issue isn't the names that aren't on the list but a few that almost made the cut. According to Food & Drink Europe, Sweden's Muslim population asked that the popular and varied takes on the name Mohammed not appear on Coca-Cola's bottles. The company obliged.

Although Coca-Cola's global revenue in the first quarter dipped to $11.04 billion from $11.14 billion in the same period last year, sales volume increased worldwide. While that uptick came with only 1% growth in the U.S., sales in Europe, Asia and Africa spiked 15%.
When Coca-Cola's target markets seem to have no problem buying its product, there's no reason to go angering them with some halfhearted marketing ploy. Coca-Cola's name game is uniting the world -- but only in hatred of the company promoting it.
DATA PROVIDERS
Copyright © 2014 Microsoft. All rights reserved.
Fundamental company data and historical chart data provided by Morningstar Inc. Real-time index quotes and delayed quotes supplied by Morningstar Inc. Quotes delayed by up to 15 minutes, except where indicated otherwise. Fund summary, fund performance and dividend data provided by Morningstar Inc. Analyst recommendations provided by Zacks Investment Research. StockScouter data provided by Verus Analytics. IPO data provided by Hoover's Inc. Index membership data provided by Morningstar Inc.
MARKET UPDATE
[BRIEFING.COM] The stock market welcomed the new trading week with a mixed session that saw relative strength among large-cap stocks, while high-beta names underperformed. The Dow Jones Industrial Average (+0.3%) and S&P 500 (-0.1%) finished near their flat lines, while the Nasdaq Composite and Russell 2000 both lost 1.1%.

Equities began the day on a cautious note amid continued concerns regarding the strength of the global economy. Over the weekend, China reported its first decline ... More
More Market News