Which amusement park rides are most dangerous?
A study of injuries among children reveals some surprising data. Hint: Take extra care around carousels.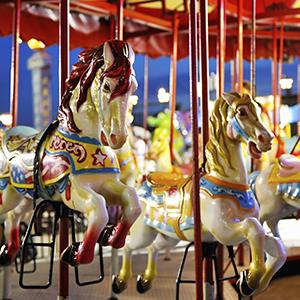 We're entering the heart of the season for America's multibillion-dollar amusement and theme park industry. And while some parents may be nervous as they watch their kids go on a hair-raising roller-coaster ride, they may actually have more to fear from plain-vanilla carousels when it comes to children getting injured.
A new study by researchers at the Nationwide Children's Hospital in Columbus, Ohio, and published by Clinical Pediatrics looks at pediatric injuries from amusement park rides treated in emergency departments from 1990 to 2010 -- and it offers some unexpected data.
Nearly 21% of those injuries took place on merry-go-rounds or carousels, while just more than 10% came from roller coasters and nearly 4% were from bumper cars. The most common cause of injury was falling, especially among kids age 5 and younger.

"Many of the injuries of these rides are over hard floors," Tracy Mehan, the study's lead researcher, told CNN.com, "and children are falling on a hard floor and are ending up with head injuries."
While boys usually have a higher overall injury rate than girls, that statistic apparently doesn't hold true in amusement parks. The study says more girls (55%) get injured than boys (45%).
Fortunately, of the annual average of more than 4,400 injuries from amusement park rides in the U.S. -- or up to 20 a day treated in emergency rooms in summer -- fewer than 2% involved a child being hospitalized or held overnight for observation.
The nation's amusement park and arcades brought in close to $13.4 billion in revenue in 2009, according to U.S. Census Bureau data. And much of that industry is well protected against possible lawsuits regarding injuries.

The theme park industry in particular "operates on so many different levels. . . . It involves all kinds of business models combined," University of Florida law professor Lyrissa C. Barnett Lidsky told the Orlando Sentinel in 2009. "It's hard to imagine another business that has such a wide array of activities that create a potential for tort liability."

The newspaper's review of hundreds of those theme park lawsuits found that most settlements are secret and are reached out of court. It also notes that theme park companies often go after unsuccessful plaintiffs to obtain reimbursement for legal expenses.
The companies behind those amusements say such litigation comes with the territory. "Given the significant size and scope of our operations and the millions of guests that visit our property each year, it is not unexpected that claims will occasionally be filed against our company," Kim Prunty, spokeswoman for Walt Disney (DIS) Disney World, told the Sentinel.
Researchers say regulation of so-called fixed-site rides is currently the responsibility of local or state governments, while the U.S. Consumer Product Safety Commission has jurisdiction over the rides you see traveling from town to town at state fairs and carnivals. That situation has led to a fragmented oversight system.

"A coordinated national system would help us prevent amusement ride-related injuries through better injury surveillance and more consistent enforcement of standards," Dr. Gary Smith, the director of the Center for Injury Research and Polcy at Nationwide Children's Hospital, told CNN.com.
DATA PROVIDERS
Copyright © 2014 Microsoft. All rights reserved.
Fundamental company data and historical chart data provided by Morningstar Inc. Real-time index quotes and delayed quotes supplied by Morningstar Inc. Quotes delayed by up to 15 minutes, except where indicated otherwise. Fund summary, fund performance and dividend data provided by Morningstar Inc. Analyst recommendations provided by Zacks Investment Research. StockScouter data provided by Verus Analytics. IPO data provided by Hoover's Inc. Index membership data provided by Morningstar Inc.
MARKET UPDATE
[BRIEFING.COM] The stock market began the new week on a cautious note. The S&P 500 lost 0.3%, but managed to erase more than half of its opening decline. Thanks to the rebound, the benchmark index reclaimed its 50-day moving average (1976.78) after slipping below that level in the morning.

Equities slumped at the open amid a couple global developments that dampened the overall risk appetite. Continued student protests in Hong Kong and a potential response from China weighed on the ... More
More Market News