South Carolina's DeMint gives up Senate seat
A darling of the tea party, Jim DeMint will become head of the Heritage Foundation. He plans to use the position to push for a more conservative government. His departure may help get a budget deal done.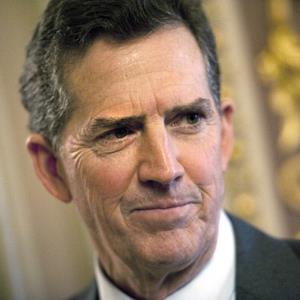 Sen. Jim DeMint, R-S.C., perhaps the Senate's most prominent tea party proponent, is quitting to take the top job at the Heritage Foundation, a conservative think tank in Washington.
Stocks appeared to have reacted positively to the news. The announcement came shortly before 11 a.m. ET Thursday.
The market had been mostly lower, but the major averages promptly pushed into the black, although gains are small. That suggests a few traders believe DeMint's departure may make getting a fiscal cliff deal a touch easier to achieve.
But the fact is the market has been quite quiet, fairly typical on the day before the Labor Department releases the monthly report on joblessness and payroll employment.
DeMint has been outspoken in opposing any tax increases to solve the fiscal cliff -- the witch's brew of spending cuts and tax increases that could go into effect after Jan. 1.
This week, in fact, he opposed House Speaker John Boehner's budget plan, arguing it will kill U.S. jobs.
DeMint became a driving force for the tea party in the Senate, working aggressively to prop up the most conservative candidates. He often irked his party's leaders.
He first gained prominence in 2007 helping to sink immigration reform supported by President George W. Bush, deriding such efforts as "amnesty."
His profile grew enormously in the 2010 elections when he joined tea party forces to become an influential player in Senate Republican primaries. He often said he would prefer to see a Senate of 30 rock-ribbed conservatives, rather than 60 more moderate Republicans.
But his support of Christine O'Donnell in Delaware and Ken Buck in Colorado backfired. Both were defeated, and Democrats were able to maintain control of the Senate in 2010. The Democratic majority expanded this year.
DeMint expects to use his position at Heritage as a bully pulpit to push his views of cutting federal spending to the bone.
He will also enjoy some nice perks and a much larger salary. His Senate salary is $174,000. Heritage CEO Ed Feulner, whom DeMint will replace, earned $1 million in 2010, news reports say.
DeMint will leave with two years left in his term. South Carolina Gov. Nikki Haley will appoint a successor to hold the seat until a special election in 2014 for a four-year term. Sen. Lindsay Graham is expected to run for another six-year term in 2014 as well.
More from Money Now
"— Police used chemical spray Thursday to subdue protesters trying to rush the Michigan Senate chamber after Gov. Rick Snyder and other Republican leaders announced they would press for quick approval of right-to-work legislation limiting union powers.
Eight people were arrested for resisting and obstructing when they tried to push past two troopers guarding the Senate door, state police Inspector Gene Adamczyk said. The Capitol was temporarily closed because of safety concerns.
So-called right-to-work measures generally prohibit requiring unions from collecting fees from nonunion employees, which opponents say drains unions of money and weakens their ability to bargain for good wages and benefits. Supporters insist it would boost the economy and job creation."
Retailers like Macy's should be particularly opposed to the sly legislative terrorism afoot here in Michigan. First, the union dues and membership become voluntary. Then, as the ranks dwindle the swindlers on top making 500 TIMES current union pay... then mandate a dollar an hour wage or the door. WHO do you go to when the union is gone? People who make a dollar an hour are unable to buy what they make much less shop at a Macy's. Wake up, America... you opposed a loser like Romney in the White House but it was only ONE of the many many conspiracies of a False Elitist Class attempting the take-over of America by a New World Order. We don't want or need a New World Order, we want a level playing field! These losers didn't start anything from scratch- including Snyder, former CEO of Gateway. He used a village to build a brand then fired 30,000 and sold the brand to an Asian business. They got SQUAT. He got a LOT. We want and need Republicans fleeing America for sanctuary someplace else. Know why? Because there is NO PLACE that wants a New World Order. Time for change... change out who gets rowed and who better pick up a oar and join the rest of us in recovery.
"His profile grew enormously in the 2010 elections when he joined tea party forces to become an influential player in Senate Republican primaries. He often said he would prefer to see a Senate of 30 rock-ribbed conservatives, rather than 60 more moderate Republicans."

Huh? What the heck is a rib-rocked conservative Republican-- a psychopath?

Go away Koch brothers. Keep your neoCon ideas for your Galt's Glutch - make it a location outside of the USA. Here in the USA we believe in the middle class, democracy, and freedom.

I wonder if your middle class tea party constituents would move there?
The elders wouldn't have SS or Medicare in Galt's Glutch. Would they be willing to work for nothing or slave wages so the Kochs can fulfill their dream? Without unions and organized labor, do you think they'd work a normal week, or would they have to work weekends and nights too?

Speaking of working nights - look at Macy's idea to stay open 48 hours. Don't feed the monsters.





Are you sure you want to delete this comment?
DATA PROVIDERS
Copyright © 2014 Microsoft. All rights reserved.
Fundamental company data and historical chart data provided by Morningstar Inc. Real-time index quotes and delayed quotes supplied by Morningstar Inc. Quotes delayed by up to 15 minutes, except where indicated otherwise. Fund summary, fund performance and dividend data provided by Morningstar Inc. Analyst recommendations provided by Zacks Investment Research. StockScouter data provided by Verus Analytics. IPO data provided by Hoover's Inc. Index membership data provided by Morningstar Inc.
MARKET UPDATE
[BRIEFING.COM] The major averages ended the midweek session with slim gains after showing some intraday volatility in reaction to the release of the latest policy directive from the Federal Open Market Committee. The S&P 500 added 0.1%, while the relative strength among small caps sent the Russell 2000 higher by 0.3%.

Equities spent the first half of the session near their flat lines as participants stuck to the sidelines ahead of the FOMC statement, which conveyed no changes to the ... More
More Market News