The pain of $4-a-gallon gas is spreading
This tipping point is already hitting the country's most populated areas. As gas prices surge, some consumers may cut spending in other areas.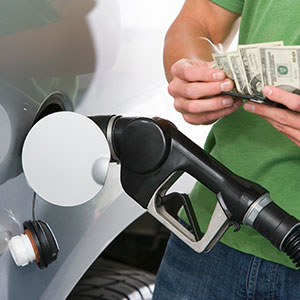 A tipping point has hit some of the country's most populated areas: the $4 gallon of gas, which is digging into the pocketbooks of consumers in New York, California and Washington, D.C., according to the Automobile Association of America.
While painful for consumers, high gas prices may also spell trouble for the still-recovering economy. At $4 per gallon and higher, almost one-third of consumers say they're forced to make "significant cutbacks" in spending, according to a 2012 Gallup poll.
February's price jump has been unusual, given that drivers typically take to the roads less in winter, leading to lower demand for gas. But refinery shutdowns have resulted in tighter supply, which is driving up prices. 
Unfortunately for consumers, it's likely that more parts of the country will soon feel the $4 pain, despite a break in the rising streak.
That's because fuel prices typically rise in March and April, as weather improves and drivers take to the road again. Peak prices this spring might approach the highs seen in 2011 and 2012, AAA noted in a Feb. 19 blog post. 
The worst-hit cities are in California, with Santa Barbara residents paying the highest prices in the country: $4.36 for a gallon, according to GasBuddy.com. Other hard-hit towns include Honolulu, where a gallon costs $4.27, and New York City, where drivers pay $4.06. 
The higher costs are taking their toll on consumers, according to the National Association of Convenience Stores (NACS), which represents the convenience and fuel retailing industry. 
Almost one-quarter of consumers who buy gas are "very pessimistic" about the economy, up from 18% in January, when fuel prices started climbing, according to the NACS Consumer Fuels Survey. 
"[C]onsumers are feeling the pain from higher gas prices and this is affecting their feelings about the economy in general," said John Eichberger, NACS vice president of government relations, in a statement. "Worse, consumers see no end in sight, with 62% saying that they expect prices to be even higher in the coming weeks."
MARKET UPDATE
[BRIEFING.COM] Stocks ended modestly higher as the S&P 500 climbed 0.2%, and the Dow added 0.4% to register its 19th consecutive Tuesday of gains.

The major averages saw little change during morning action, but afternoon buying interest helped lift the indices to session highs. Most cyclical sectors (with the exception of materials and technology) finished among the leaders, but the defensively-geared health care sector settled atop the leaderboard as biotechnology outperformed. ... More
More Market News
TOP STOCKS
S&P 500 forecast to hit 2,100 by 2015
As the stock market reaches new highs, Goldman Sachs sees more gains ahead. Fueling the market: An improving economy, growing dividends and low interest rates.