Dish Network smartphone plan gets the OK
Sprint and DirecTV line up as potential suitors for a bundled service that would take on Verizon and AT&T.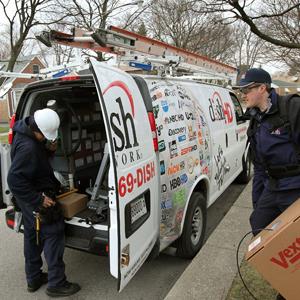 Satellite dishes may be only one of Dish Network's (DISH) offerings now that the Federal Communications Commission has approved its proposed smartphone service.
Dish has been gobbling up airwave spectrum in an attempt to offer voice and data service and reduce its dependence on satellite television, which is getting costly to maintain and is losing customers. FCC Chairman Julius Genachowski's proposal to regulate Dish's airwaves passed by a 5-0 vote, clearing the way for Dish Network to exit its two-horse race with DirecTV (DTV) and start competing with bundled services from Verizon (VZ) and AT&T (T).
The decision limits the network's power to prevent interference with government-owned frequencies that are going up for auction, but it's also made Dish the popular kid in the multimedia playground as competitors try to make nice and get in on its access.
Sprint (S), for example, has spoken with Dish recently about a potential partnership that would allow the satellite-TV company to offer mobile-phone service over Sprint's network. Sprint, in turn, would receive access to Dish's mobile airwaves, according to anonymous sources quoted by AdAge. That would make Sprint a messy quilt of a service provider, but might allow it to bundle its voice and data plans with TV offerings from Dish and Internet access from recent acquisition Clearwire (CLWR).
Partnering with satellite rival DirecTV might be far less messy. Dish chairman Charlie Ergen told folks sitting in on the company's earnings call in November that the two largest U.S. satellite-TV providers "have to consider" a deal. DirecTV CEO Mike White expressed similar thoughts in September, when he noted the "challenging content cost environment where consolidation could be pro-consumer." Federal regulators declared the merger anticompetitive the last time it was proposed in 2002, but a combined smartphone and satellite television service that could also offer wireless internet access would expand Dish and DirecTV's field of competitors instead of shrinking it.
Either scenario is preferable to what Dish would face by continuing with satellite TV service alone. Analysts estimate that Dish's profits will grow by less than 8% through 2014. That's about 95% less growth than other cable and satellite-TV companies. DirecTV faces similar troubles in the satellite sector and posted its first-ever quarterly net loss in customers this year. Dish has reported a drop in four of the last six quarters, including a net loss of 19,000 in the most recent quarter. That's still better than the 111,000 customers it lost a year earlier, but the cost of getting new customers also climbed 15% to $453 million during that span.
The costs of content and customer retention for both satellite companies just keeps rising as content providers and competitors turn up the heat. Dish just ended a nasty negotiation with AMC Networks (AMCX) last month. Dish ended up paying a $700 million settlement after taking AMC, IFC, the Sundance Channel and We TV off the air for three months as part of a dispute with AMC's former parent company Cablevision (CVC) dating back to 2008.
DirecTV, meanwhile, yanked MTV, Comedy Central, Nickelodeon and other networks out of its lineup in July during a dispute with Viacom (VIA.B). That dispute was resolved before August, with the Viacom networks returning to air and DirecTV paying 20% more for the privilege of airing them.
As the satellite providers struggle,
AT&T
's U-verse and
Verizon
's Fios are gaining customers and bundling their cheaper-than-cable offerings with Internet service. Meanwhile,
Netflix
(
NFLX
) and Hulu offer streaming video for only $8 a month, while
Amazon
(
AMZN
) is testing that monthly price for its Amazon Prime streaming service that also throws in two-day shipping for items in Amazon's marketplace. Both Amazon and Netflix also offer their content commercial-free, which is creating yet another headache for Dish and DirecTV.
Dish bumped up ad spending this year to promote its Hopper set-top box, which records all the major networks' prime-time shows, stores them for eight days after their initial broadcast and allows customers to skip all commercials without fast-forwarding through them by pressing the AutoHop button. DirecTV boosted its own ad spending just to compete.
Earlier this year, Fox Broadcasting (NWS), Comcast's (CMCSA) NBC Universal and CBS (CBS) each sued Dish, claiming the AutoHop service will destroy the "advertising supported ecosystem" that provides free, over-the-air prime-time TV. They also assert that the copies of the shows that Dish's hopper creates constitute copyright infringement. Dish sued the networks in New York, essentially arguing that the copyright claim is bogus. According to Ad Age, a U.S. district court judge in Los Angeles agreed that Dish's service infringed on copyright, but refused to block it.
Dish's new smartphone deal with the FCC doesn't make all those problems go away, but it gives the company more options and potential allies for fighting its battles.
More from Money Now
DATA PROVIDERS
Copyright © 2014 Microsoft. All rights reserved.
Fundamental company data and historical chart data provided by Morningstar Inc. Real-time index quotes and delayed quotes supplied by Morningstar Inc. Quotes delayed by up to 15 minutes, except where indicated otherwise. Fund summary, fund performance and dividend data provided by Morningstar Inc. Analyst recommendations provided by Zacks Investment Research. StockScouter data provided by Verus Analytics. IPO data provided by Hoover's Inc. Index membership data provided by Morningstar Inc.
MARKET UPDATE
[BRIEFING.COM] The stock market finished an upbeat week on a mixed note. The S&P 500 shed less than a point, ending the week higher by 1.3%, while the Dow Jones Industrial Average (+0.1%) cemented a 1.7% advance for the week. High-beta names underperformed, which weighed on the Nasdaq Composite (-0.3%) and the Russell 2000 (-1.3%).

Equity indices displayed strength in the early going with the S&P 500 tagging the 2,019 level during the opening 30 minutes of the action. However, ... More
More Market News