Sacramento Kings' deal makes Seattle the NBA's pawn
In losing a bid for the team, the city and its well-funded backers have given the league just what it wanted: A bargaining chip.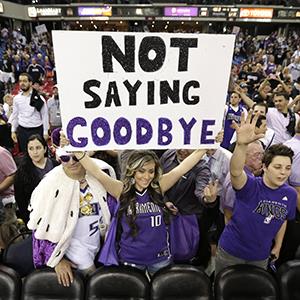 Congratulations, Seattle. You're now to the National Basketball Association what Los Angeles is to the National Football League.
Amid a busy sports day that saw NBA free agent Jason Collins come out as gay and ESPN ignore that fact for almost an hour as it reported on the New York Jets cutting seldom-used backup quarterback Tim Tebow, an NBA ownership committee voted on Monday against relocating the Sacramento Kings to Seattle.
As ESPN notes, Seattle businessman Chris Hansen and Microsoft (MSFT) Chief Executive Steve Ballmer had bid $365 million for 65% of the team and had made a separate deal with a bankruptcy court to pay $15 million for an additional 7% stake (Microsoft owns and publishes moneyNOW, an MSN Money site).
They were also willing to pay millions more in relocation fees and arena development to move the Kings to a larger market. Instead, their money and promise of a new building now perform the same function as the $1.5 billion NFL-caliber football stadium the Los Angeles City Council approved last year.
With both Hansen and Ballmer still determined to build a new arena in Seattle and planning to pitch the NBA's board of governors before it votes formally on the matter on May 13, the league and its Sacramento franchise now have something just as valuable as a major-market team in Seattle. They have a bargaining chip.
Matthew Yglesias at Slate observed that by spurning the $365 million Seattle bid, which included a privately funded arena, for a $341 million Sacramento bid that requires the city itself to shell out for an arena, the NBA set an ominous precedent.
The owners want to be able to make this kind of move over and over again. "Give us a new publicly financed stadium, or we'll move to Seattle" is a threat that works as well in Portland or Milwaukee or Minneapolis or Salt Lake City or Memphis or New Orleans or Phoenix as it does in Sacramento.
Sound cynical? There's good reason for it. Neil deMause, a writer for the Village Voice and author of the stadium financing book and blog "Field Of Schemes," noted Tuesday that the Sacramento deal maintains "an arena-subsidy business model that has helped make many rich NBA owners even richer." Seattle lost the Sonics to Oklahoma City for refusing to play this game, but it learned that if you build an arena, a team will usually come.
Just look at what this strategy has done in the NFL. With the specter of a move to Los Angeles or Toronto looming in the background, the Washington, D.C.-based political action committee National Sports Fans Coalition notes that the Buffalo Bills got New York state and Erie County to cough up $223 million last year for renovations to Ralph Wilson Stadium, even though those fixes will keep the team in town for only eight more years.

The owners of the San Diego Chargers and St. Louis Rams -- both of which once called Los Angeles home -- have also implied that they'd consider a move if they don't get the publicly funded stadium upgrades they're seeking.
This happens in just about every sport. Hartford, Conn., residents are still reeling from the National Hockey League's decision to move their Whalers to North Carolina in 1997. Hockey fans in Atlanta, meanwhile, have been stripped of their NHL team twice: In 1980 when the Flames left for Calgary and last year when the Thrashers moved to Winnipeg.

Major League Baseball teams used Tampa/St. Petersburg, Fla., as a threat after the cities built a domed ballpark there in 1996. The Chicago White Sox, San Francisco Giants and Seattle Mariners all used the facility as leverage for their own new stadiums until 1995, when league owners finally added an expansion franchise in Tampa and cashed in their chip.
Where the NBA is concerned, however, demand for teams far outstrips supply. Although Oklahoma City's empty arena briefly wooed the New Orleans Hornets before landing the Sonics, other cities have lined up for their shot at a franchise.
Kansas City, the Kings' former home, spent $276 million on the Sprint (S) Center arena and opened in in 2007 without a team. Although it briefly flirted with the NHL's Nashville Predators, Pittsburgh Penguins and New York Islanders -- all of which either stabilized ownerships, moved to new arenas or got taxpayers to shell out for new facilities -- its intended targets were troubled NBA franchises, including the Kings, the league-owned New Orleans Pelicans (née Hornets) and the now-resurgent Los Angeles Clippers. Kansas City has been far more quiet lately, however.
Even Virginia Beach, Va., flirted with the idea of building an NBA arena and wooing a team, but Gov. Bob McDonnell nixed the idea by withholding the $150 million in state funds needed for the project's completion. While Kansas City keeps crossing its fingers, Seattle stands alone as the major market with money in place. Unless the league expands, however, Seattle is just an NBA code word for extortion.
DATA PROVIDERS
Copyright © 2014 Microsoft. All rights reserved.
Fundamental company data and historical chart data provided by Morningstar Inc. Real-time index quotes and delayed quotes supplied by Morningstar Inc. Quotes delayed by up to 15 minutes, except where indicated otherwise. Fund summary, fund performance and dividend data provided by Morningstar Inc. Analyst recommendations provided by Zacks Investment Research. StockScouter data provided by Verus Analytics. IPO data provided by Hoover's Inc. Index membership data provided by Morningstar Inc.
MARKET UPDATE
[BRIEFING.COM] The stock market finished the Tuesday session on the defensive after spending the entire day in a steady retreat. The S&P 500 (-0.6%) posted its third consecutive decline, while the small-cap Russell 2000 (-0.9%) slipped behind the broader market during afternoon action.

Equity indices were pressured from the start following some overnight developments that weighed on sentiment. The market tried to overcome the early weakness, but could not stage a sustained rebound, ... More
More Market News