The Batmobile can be yours for $5 million
The iconic car joins the General Lee from 'The Dukes of Hazzard' on the auction block this weekend.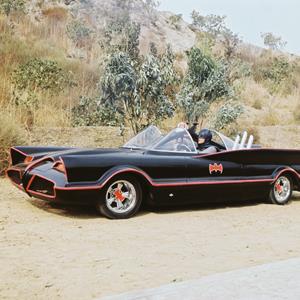 The Batmobile is up for grabs this weekend, and may fetch perhaps as much as $5 million at an Arizona auction.
The Lincoln Futura, created in 1955, has been on display at the North Hollywood shop where it was built since 1968, when the "Batman" television series ended, The Los Angeles Times
reports
. The car, with its bulletproof Plexiglas bubbles on top, played a big role in the series, which starred Adam West and Burt Ward.
It's owned by George Barris, who also made the vehicles used in "The Munsters" and "Beverly Hillbillies." Barris said he customized the Lincoln into the Batmobile in 15 days at a $15,000 cost.
The car certainly is one of a kind, which is why some experts think it could sell for up to $5 million at the annual Barrett-Jackson auction in Scottsdale, the event CNBC
describes
as the "car-a-palooza of auto-collecting." The auction is also selling a Mercedes once owned by Clark Gable.
Barrett-Jackson CEO Craig Jackson tells CNBC that he could surpass his company's auction record of $108 million from 2007. He thinks the Batmobile buyer will end up being a museum or movie company with links to the Batman franchise, which is owned by DC Comics.
Also on the auction block is the General Lee, the famous car owned by Bo and Luke Duke in the television show "The Dukes of Hazzard."
More on Money Now
MARKET UPDATE
[BRIEFING.COM] There has been some further slippage in the major indices the last half hour, but nothing major as they continue to hold fairly close to the unchanged mark.

The back and forth today isn't a total surprise with the Fed chairman due to speak on Wednesday and participants aware some consolidation is probably in order after the run the market has had. Nasdaq -4.97 at 3493.99... NYSE Adv/Dec 1677/1278... Nasdaq Adv/Dec 1311/1151.
More Market News
TOP STOCKS
How are YouTube's channels performing?
Despite the promise of big-name stars, the paid hub launched with a series of lesser-known actors, indie filmmakers, girls in bikinis and other oddities.