First the pep talk -- then the pink slips
Workers at the Daily Voice were promised good news last Friday, only to find out on Monday they've been fired without severance.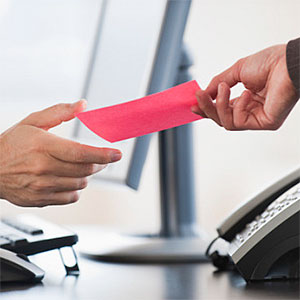 Good news, everyone! We don't have to pay you anymore!
That's the two-part message employees of hyper-local news site Daily Voice received after CEO Zohar Yardeni resigned last Friday and set off a company cliffhanger that spanned the weekend.
The ending was a bit of a letdown, though, as a whole lot of people were sent packing.
After Yardeni stepped down on Friday, Daily Voice Chairman Carll "Two Ls" Tucker sent an email that employees understandably saw as a harbinger of great things to come.

The text, reported by The Huffington Post but leaked to Gawker, read as follows:
Monday morning we will share with you the news about where we're going and how we're going to get there. The news is good -- but you'll need to sit tight while we finalize our plans. Check your email about our company-wide phone conference early Monday morning. I am pumped about the prospect of working with you to build a great company.
Awesome, right? You'd be totally "pumped" to go into work with Carll on Monday after reading that too, no? But like lemmings who saw only the lovely meadow and not the jagged, lemming-corpse-strew​n cliff beyond it, employees happily trotted into Daily Voice offices on Monday only to be fired without severance packages, according to the Boston Business Journal.
That finalized plan for a "great company" included closing all 11 of its Massachusetts sites and going through with widespread layoffs at 41 sites throughout New York and Connecticut. According to a tip received by Gawker, employees were given individual meeting times that appeared to be part of that "working with you" clause in Tucker's email but turned into individual firing sessions.
You don't want to say the employees should have seen this coming -- as they almost never do -- but the signs were there. Daily Voice and its Main Street Connect sites were built to compete with AOL's (AOL) Patch local news sites and even had a budding rivalry brewing with them, according to media industry blogger Jim Romenesko. Patch went through its own bout of layoffs, documented by Business Insider and PandoDaily. A story that ran on The Awl last month featuring a jilted employee's take on working at Patch was unkind at best.
Maybe the signals were there for Daily Voice employees to miss, but that's beside the point. Leaving work on Friday not only employed but with the boss promising better days ahead, a person would have to be a hardened cynic to come in on Monday with a box to pack up the desk.

Yet the Daily Voice employees' experience is yet another unflinching reminder about the inherent nature of business, an ideal predicated on the money-making notion that there are no human beings, just human resources.
DATA PROVIDERS
Copyright © 2014 Microsoft. All rights reserved.
Fundamental company data and historical chart data provided by Morningstar Inc. Real-time index quotes and delayed quotes supplied by Morningstar Inc. Quotes delayed by up to 15 minutes, except where indicated otherwise. Fund summary, fund performance and dividend data provided by Morningstar Inc. Analyst recommendations provided by Zacks Investment Research. StockScouter data provided by Verus Analytics. IPO data provided by Hoover's Inc. Index membership data provided by Morningstar Inc.
MARKET UPDATE
[BRIEFING.COM] Nov crude oil is trading higher this morning as the U.S. and Arab allies have begun missile strikes in Syria on the Islamic State. The energy component dipped to a session low of $90.77 moments after equity markets opened but quickly recovered back into positive territory. It popped to a session high of $91.90 in recent action and is now up 0.9% at $91.64.

Oct natural gas is chopping around in a tight range between $3.88 and $3.90 in the black. It is currently up 1.2% at ... More
More Market News