After Sandy, new flood maps soak victims
Coastal residents in New Jersey and New York must either elevate their homes or face soaring insurance premiums.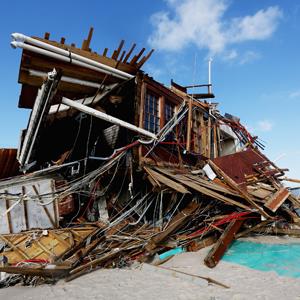 Just days away from the start of summer, property owners along the East Coast's shoreline are still being hit with the last waves from Superstorm Sandy.
The latest comes courtesy of the Federal Emergency Management Agency, which is drawing new flood maps and forcing homeowners to make a tough decision: Either use some of the $950 million New York City and New Jersey are receiving to elevate their coastal homes or face skyrocketing flood insurance premiums.
That first option is already costly, as a small cottage can cost $60,000 to elevate to a government-mandated 14 feet, while a large multilevel home could cost more than $250,000. There's also the small matter of aesthetics. A house on stilts is still preferable to one that's waterlogged or washed away, but seeing your little bungalow jacked up and looking like The Jetsons' beach house takes some getting used to.
This all assumes that property owners and seaside residents can afford it. While oceanfront property is often viewed as the exclusive domain of the rich, the Jersey Shore and coastal communities in Queens, Brooklyn and elsewhere are teeming with firefighters, police officers, plumbers, general contractors and other blue-collar workers living their dream at an attainable costs. As FEMA's maps are currently drawn, many are now in "A" or "V" flood zones, meaning their homes have a 26% chance of flooding over 30 years and, in the latter case, are in the direct path of flood waves.
That also puts them right in the crosshairs of the Biggert-Waters Flood Insurance Reform Act passed a few months before Sandy hit. The bill authorized enormous premium increases for people in flood-prone communities and was designed to keep FEMA afloat after it was nearly bankrupted by the claims from Hurricane Katrina. That storm forced the federal government to borrow about $17 billion from the Treasury and forced FEMA to update flood plain maps that hadn't been revised in more than three decades.

The new maps, which still haven't been completed, now account for rising sea levels and other changes to the coastline and putting almost every coastal town in a more stringent flood zone.
If a home lies four feet below the new flood plain, for example, a homeowner could pay $9,000 a year in flood insurance once the new rates take effect. That number rises as properties fall further below that plain. In a "V" zone, for example, people must build breakway walls that allow water to pass through or put their homes on stilts just to avoid hefty premiums.
Of course residents could also just wait until FEMA sorts out its maps or roll the dice on the hunch that another storm of Sandy's magnitude won't hit their home. It's the most costly gamble if they lose, but none of the other options are exactly cheap.
DATA PROVIDERS
Copyright © 2014 Microsoft. All rights reserved.
Fundamental company data and historical chart data provided by Morningstar Inc. Real-time index quotes and delayed quotes supplied by Morningstar Inc. Quotes delayed by up to 15 minutes, except where indicated otherwise. Fund summary, fund performance and dividend data provided by Morningstar Inc. Analyst recommendations provided by Zacks Investment Research. StockScouter data provided by Verus Analytics. IPO data provided by Hoover's Inc. Index membership data provided by Morningstar Inc.
MARKET UPDATE
[BRIEFING.COM] Recent action saw the key indices inch to fresh lows for the session. Including today's decline of 0.8%, the S&P 500 is lower by 0.5% so far in September. Despite the loss for the month, the benchmark index has fared a bit better than its higher-beta peers. On that note, the Nasdaq has given up 1.3% so far this month, while the Russell 2000 is down 3.7% for the month. Elsewhere, the price-weighted Dow (-0.5%) trades ahead of the broader market today and is up 0.6% for the ... More
More Market News