Why you're paying so much for college
Tuition keeps rising as administrators and top faculty members get juicy pay and severance packages and sweet housing deals.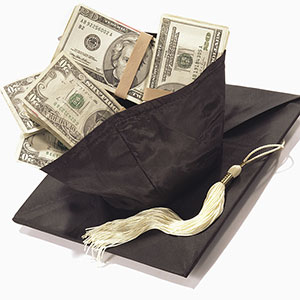 The rising cost of a college education is a major stress for many families, and many wonder why tuition keeps going up.

While students are paying for new technology and other elements of a modern higher education, another factor is at play: hefty pay deals and huge severance payments given to administrators and faculty members. Among the beneficiaries is Jacob Lew, the current U.S. Secretary of the Treasury, who received a $685,000 bonus when he left New York University in 2006.

On top of that, Lew also had a real estate deal New Yorkers can only dream of: NYU had given him $1.5 million in housing loans, Bloomberg reports. 
It's enough to make the parents of an NYU student wonder how much of their roughly $20,500 tuition (that's per semester) is going to support pricey Manhattan real estate for the school's staff.
"It certainly gives the public a clear example of how out of touch some universities are," Jonathan Robe, a research fellow at the Center for College Affordability and Productivity, told Bloomberg. "Parents will think: 'Here I am scraping by, raiding my retirement plan to pay for college. Why are they making me do this just to enrich these executives?'"
Exit payments sometimes amount to one to three times an administrator's annual salary and bonus, Bloomberg notes. And those salaries aren't exactly peanuts to begin with. The highest-paid university presidents raked in as much as $4.9 million per year in 2009, according to the Chronicle of Higher Education. 
New York University defended Lew's payments and benefits, with a spokesman saying that in his case "the benefit to the university can range in the tens of millions of dollars." 
Other universities say they're pressured because of the need to hire top talent. Academic institutions must "attract and retain the best leaders we can," a University of Chicago spokesman told Bloomberg. (That school paid $2.5 million to former medical dean and hospital chief James Madara when he stepped down in 2009.)
Top institutions such as Harvard and NYU offer low-interest home loans to help their tenured faculty and staff members purchase homes. Harvard faculty members can also receive no-interest education loans. 
Among those who took advantage of Harvard's offers were Lawrence Summers, who served as the school's president from 2001 to 2006. According to Bloomberg, he owed $1 million for buying a home and $177,000 for a dependent's education, according to the university's 2009 tax return.
Many of those benefiting are top administrators rather than rank-and-file professors. Academic presidential pay jumped by 35% from 1997 to 2007, while professors saw only a 5% income gain during the same period, according to the Chronicle of Education. 
"There always seems to be more money for the executive suite even as colleges raise tuition year after year," Sen. Charles Grassley, R-Iowa, who has been critical of college compensation, told Bloomberg. "Universities have to answer for their executive perks in exchange for their tax exemption."
DATA PROVIDERS
Copyright © 2014 Microsoft. All rights reserved.
Fundamental company data and historical chart data provided by Morningstar Inc. Real-time index quotes and delayed quotes supplied by Morningstar Inc. Quotes delayed by up to 15 minutes, except where indicated otherwise. Fund summary, fund performance and dividend data provided by Morningstar Inc. Analyst recommendations provided by Zacks Investment Research. StockScouter data provided by Verus Analytics. IPO data provided by Hoover's Inc. Index membership data provided by Morningstar Inc.
MARKET UPDATE
[BRIEFING.COM] The major averages posted solid gains ahead of tomorrow's policy directive from the Federal Open Market Committee. The S&P 500 rallied 0.8%, while the Russell 2000 (+0.3%) could not keep pace with the benchmark index.

Equity indices hovered near their flat lines during the first two hours of action, but surged in reaction to reports from the Wall Street Journal concerning tomorrow's FOMC statement. Specifically, Fed watcher Jon Hilsenrath indicated that the statement ... More
More Market News