Why radio refuses to die
In fact, a new study says it's thriving -- even among teens and 20-somethings. 'Hyper-locality' and community connections are among the reasons.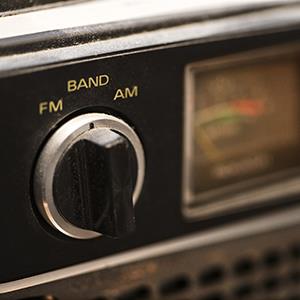 Remember that song "Video Killed the Radio Star," the first tune aired on MTV in the 1980s? It seems media experts have been predicting radio's demise ever since the first sound movies came out in the 1920s. But in an age of online streaming and digital media, radio not only endures but appears to be thriving, including among a surprising demographic: teens to mid-20-year-olds.
A new study, commissioned by Clear Channel (CCO), found 92% of all respondents to a 1,000-person online survey said they listened to radio at least once a week. You might think the radio giant injected its own bias into the study, but a Clear Channel spokesperson says all the people surveyed, men and women ages 13 to 54, were recruited randomly by a third party and not aware Clear Channel was involved in the research.
While radio has long had a strong consumer base among older Americans, especially with AM talk shows, the study says it still has a hold on younger generations. The survey found 94% of all 13-to-17-year-olds, as well as 89% of respondents ages 18 to 24, say they tune in to radio weekly.

Some other interesting factoids from the study, conducted by Latitude Research and OpenMind Strategy:
71% said radio is a part of their daily routine.

69% agreed that "streaming services do not replace radio."

78% agreed radio "has the power to make a difference in the community," while 72% felt radio is more community-oriented than TV.
One of the biggest factors radio has in its favor is accessibility. Its portable and one-on-one nature make it unique among communication media. Of course, car radios are a huge part of that equation. About half of American radio consumers listen in their cars. And among the survey respondents, 82% said the first thing they do when they get into a car is turn on the radio.

Radio's portability and mobility make it popular with younger listeners, who access it across a variety of media platforms, including online streaming.

"A lot of radio stations have put apps on smartphones. They've been doing live streaming forever," Janet Kolodzy, a professor of journalism at Emerson College tells MSN Money. "So it makes . . . sense that young people will look for music via mobile, via what's out there -- which is radio."
Kolodzy says the new technologies are helping radio stations find audiences that are no longer tied to specific geographic areas, which is also strengthening radio's brand as it expands both nationally and globally.
While large, centralized corporations like Clear Channel control a lot of radio, Kolodzy says many of her students are attracted to radio by what she calls its "hyper-locality," especially when it comes to getting local news, music, sports and cultural information.

"What's made radio long-lasting, she says, "is everything from sponsoring concerts to doing live broadcasts in communities, to having ticket giveaways and contests. Those are the things that create a community and a community buy-in with the station. So radio has a sense of that we owe something to the community, and the community will buy in to us, if we continually connect with the community."
DATA PROVIDERS
Copyright © 2014 Microsoft. All rights reserved.
Fundamental company data and historical chart data provided by Morningstar Inc. Real-time index quotes and delayed quotes supplied by Morningstar Inc. Quotes delayed by up to 15 minutes, except where indicated otherwise. Fund summary, fund performance and dividend data provided by Morningstar Inc. Analyst recommendations provided by Zacks Investment Research. StockScouter data provided by Verus Analytics. IPO data provided by Hoover's Inc. Index membership data provided by Morningstar Inc.
MARKET UPDATE
[BRIEFING.COM] Equity indices remain near their flat lines as heavily-weighted sectors continue trading in mixed fashion.

At this juncture, the industrial sector (-0.6%) is the weakest performer among cyclical groups with defense contractors pressuring the space. The PHLX Defense Index is lower by 1.1% with just about every component trading lower. Including today's decline, the Defense Index is now down 2.4% for the week and off 0.7% so far in September. On the upside, General ... More
More Market News