Remembering Tiananmen: Can China squash an idea?
As the government attempts to block words and images associated with its 1989 crackdown, it has to wrestle with new technologies -- and human creativity.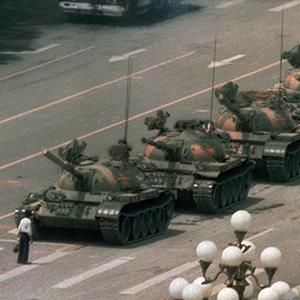 Tuesday marks the 24th anniversary of the deadly crackdown against student-led protests in Beijing's Tiananmen Square, and China is still combative over the global remembrance of the event.

The Chinese foreign ministry is urging Washington to "discard political prejudice and correctly treat China's development," according to The Associated Press. The comment was apparently in response to a recent U.S. State Department statement calling on China to account for those killed, detained or still missing from the 1989 protests.
No one can deny China's amazing economic rise in the post-Mao years since its adoption of a market economy. But there are still questions as to whether its politically intolerant, one-party system can continue to control new communications technologies that refuse to remain filtered.
I was in Tiananmen Square 24 years ago, working for a television news network, and witnessed many of the events that have since become part of history.
I saw students confronting soldiers, trying to debate them about the need for change. I watched art students build the Goddess of Democracy statue. I also saw students and Beijing residents shot down in the early morning hours of June 4, 1989, as they tried to halt the advance of troops into the square.

And several days later, I watched from a hotel balcony as a lone man carrying grocery bags suddenly stepped in front of a convoy of tanks on Chang An Avenue -- and was amazed when, instead of running him down, the tanks stopped.
The technological leaps we've made since then have prompted a lot of "what if" discussions with friends about how texting, Twitter, smartphones and other devices might have changed not only the coverage of Tiananmen, but perhaps its outcome -- especially when you consider the importance of those communication advances during the recent Arab Spring protests and revolts.
Years ago, former President Bill Clinton famously said that trying to control the Internet would be like trying to nail Jell-O to a wall. Turns out he was wrong: The People's Republic has been very successful in keeping citizens away from online ideas, phrases and terms that it deems offensive.

Indeed, China has a literal army of monitors whose sole purpose appears to be censoring and controlling what its Internet users see and access.
Attempts by non-Chinese companies to break through what some call the Great Firewall of China have gone badly. Google (GOOG) hoped to tap into the nation's massive Internet market in 2006 with the launch of Google.cn. But a series of escalating disputes with Chinese authorities eventually prompted Google to move its servers and redirect Chinese Internet traffic to its uncensored Hong Kong site.
Chinese entrepreneurs, in the meantime, have created their own successful and
"trusted" Internet companies, such as the Baidu (BIDU) search engine, the Facebook (FB)-like Renren (RENN) and the micro-blogging service Sina Weibo.
Chinese Web officials have recently stepped up censorship efforts around the Tiananmen anniversary --
blocking
users from searching for terms such as  "June 4 incident," "64" (June 4, in month and date), and even "today," "that day" or "special day."
But humans can be amazingly ingenious when it comes to getting what they want. The Atlantic has a collection of images showing the creative ways Chinese netizens have been getting around the censorship to commemorate Tiananmen.
Pictures, even silly ones, can have resonance. That includes a spoof picture making the rounds showing giant yellow rubber ducks blocking the tank man. And then consider the new and riveting news photo out of Turkey, of a woman in a red dress being hit with tear gas during protests there. That image is already iconic.
DATA PROVIDERS
Copyright © 2014 Microsoft. All rights reserved.
Fundamental company data and historical chart data provided by Morningstar Inc. Real-time index quotes and delayed quotes supplied by Morningstar Inc. Quotes delayed by up to 15 minutes, except where indicated otherwise. Fund summary, fund performance and dividend data provided by Morningstar Inc. Analyst recommendations provided by Zacks Investment Research. StockScouter data provided by Verus Analytics. IPO data provided by Hoover's Inc. Index membership data provided by Morningstar Inc.
MARKET UPDATE
[BRIEFING.COM] The stock market finished the Thursday session on a higher note with the S&P 500 climbing 0.5%. The benchmark index registered an early high within the first 90 minutes and inched to a new session best during the final hour of the action.

Equities rallied out of the gate with the financial sector (+1.1%) providing noteworthy support for the second day in a row. The growth-oriented sector extended its September gain to 1.9% versus a more modest uptick of 0.4% for the ... More
More Market News