Emeril gets the boot in nasty Macy's spat
The celebrity chef sees Macy's drop his cookware line -- a line that just happens to be owned by Martha Stewart's company.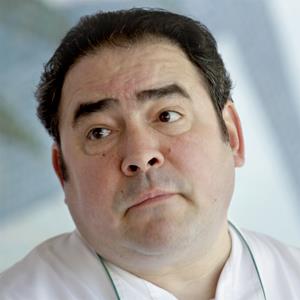 Chef Emeril Lagasse has been dragged into the increasingly bitter battle between
Macy's
(
M
) and Martha Stewart's company.
Macy's has decided to drop Lagasse's line of cookware from its 800 stores right in the middle of
its ongoing courtroom fight
with
Martha Stewart Living Omnimedia
(
MSO
). The cookware line just happens to be owned by Martha Stewart.
Macy's says it's all just a big coincidence, and that Lagasse's cookware simply wasn't performing very well in stores.
This came as a complete surprise to Martha Stewart's legal team,
reports
Women's Wear Daily. "During a brief break, the team was overheard confirming among themselves that they had 'no idea' Macy's severed ties with Lagasse," writes the publication.
Martha Stewart bought the Lagasse line in 2008 for $50 million,
reports
the New York Daily News.
Macy's is suing Martha Stewart's company and
J.C. Penney
(
JCP
), claiming that Stewart should not have signed a $283 million deal to sell her items at J.C. Penney. Macy's said it had the exclusive right to sell Stewart's goods.
Earlier this month, Macy's CEO Terry Lundgren testified that he hung up on Stewart when she called in December 2011 to tell him about her deal with J.C. Penney, and he hasn't talked to her since.
"I was literally sick to my stomach about this," he said in court. "It was something I couldn't imagine."
Lagasse is keeping quiet about the development, but some of his friends aren't. Celebrity chef Anthony Bourdain
said on Twitter
that Lagasse's cookware was of good quality and sold for a good price. Macy's is "playing vindictive small ball," he added. Other Twitter users told Macy's not to take out its beef with Stewart on Emeril.
MARKET UPDATE
[BRIEFING.COM] Stocks ended modestly higher as the S&P 500 climbed 0.2%, and the Dow added 0.4% to register its 19th consecutive Tuesday of gains.

The major averages saw little change during morning action, but afternoon buying interest helped lift the indices to session highs. Most cyclical sectors (with the exception of materials and technology) finished among the leaders, but the defensively-geared health care sector settled atop the leaderboard as biotechnology outperformed. ... More
More Market News
TOP STOCKS
S&P 500 forecast to hit 2,100 by 2015
As the stock market reaches new highs, Goldman Sachs sees more gains ahead. Fueling the market: An improving economy, growing dividends and low interest rates.