Wal-Mart bribery woes in Mexico won't go away
The New York Times says the retail giant routinely paid out bribes to win approvals for at least 19 big stores in Mexico. And the problem may extend to other international markets as well.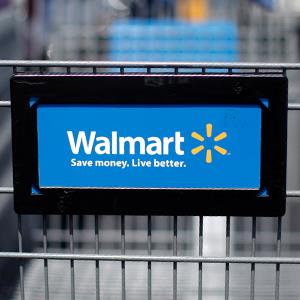 Wal-Mart
(
WMT
) wasn't getting any good PR from Mexico Tuesday. The New York Times charged that the retail giant systematically bribed local officials to get its stores into prime locations in the country.
One location is within sight of the great Aztec pyramid complex at Teotihuacán, which draws tourists from around the world. Wal-Mart reportedly paid more than $200,000 in four different bribes to secure the necessary permits for a store that opened in 2004.
The incident was,
The Times said bluntly,
routine for Wal-Mart de Mexico, the company's Mexican subsidiary.
Wal-Mart de Mexico was "an aggressive and creative corrupter, offering large payoffs to get what the law otherwise prohibited," The Times said. "It used bribes to subvert democratic governance -- public votes, open debates, transparent procedures. It used bribes to circumvent regulatory safeguards that protect Mexican citizens from unsafe construction. It used bribes to outflank rivals."
But investors didn't seem to mind Tuesday. Wal-Mart shares rose 30 cents to close at $69.50 as the stock market surged for a second straight day. The
Dow Jones industrials
(
$INDU
), of which Wal-Mart is a component, were up 126 points to 13,351. The blue-chip index is up 9.3% for the year and 2.5% for the month. Wal-Mart shares are up 16.3% for the year, but down 3.5% on the month, mostly on worries that the holiday shopping season will disappoint.
Wal-Mart is Mexico's largest private employer. The company has 221,000 employes working in people working in 2,275 stores, supermarkets and restaurants.
The Times first reported on Wal-Mart's Mexican issues in April, charging that in 2006, the company buried an internal investigation probing alleged widespread bribery in Mexico. At the time, there were suggestions that the bribery was initiated by Mexican officials. But the report prompted new probes by the company as well as investigations by U.S. and Mexican officials.
The Times article on Tuesday said confidential documents suggest Wal-Mart officials used bribery to secure at least 19 different store locations in Mexico.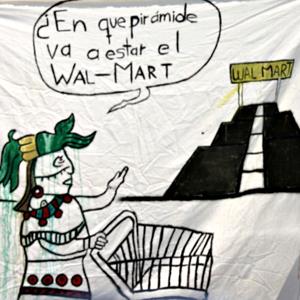 Wal-Mart paid eight bribes totaling $341,000 to be able to build a Sam's Club in one of Mexico City's most densely populated neighborhoods, near the Basílica de Guadalupe, without a construction license, an environmental permit, an urban impact assessment or even a traffic permit.
An additional $765,000, paid in nine separate bribes, allowed Wal-Mart to build a vast refrigerated distribution center in an environmentally fragile flood basin north of Mexico City. Electricity in the area was so scarce that many smaller developers were turned away.
It took a bit more than $200,000 to secure the permits to take over an alfalfa field near Teotihuacán, The Times said. The battle over the store's location was extensively covered as it went on. The proposal was the subject of intense protests.
Critics at the time said the resulting store could not have happened without bribery. But they had little proof. The Times investigation of documents and interviews with officials painted a clearer picture.
One bribe -- $52,000 -- produced a zoning map change that permitted the store to be built in an area where local zoning rules would have prohibited the store. Another $25,900 secured the approval of local traffic authorities.
A third -- for $81,000 -- won the approval of the Mexican authority in charge of protecting cultural landmarks. Wal-Mart de Mexico offered a "donation" of up to $45,000 and a "personal gift" of up to $36,000 in exchange for the permit, The Times said.
Lastly, Wal-Mart de Mexico executives agreed to pay $114,000 in bribes to guarantee the support of Teotihuacán's mayor and his allies on the municipal council, records and interviews show.
The Justice Department and the Securities and Exchange Commission are investigating possible violations of the Foreign Corrupt Practices Act, the federal law that makes it a crime for American corporations or their subsidiaries to bribe foreign officials.
Wal-Mart declined to discuss its conduct in Teotihuacán while it is continuing its own investigation, The Times said.
The company has hired hundreds of lawyers, investigators and forensic accountants to examine all 27 of its foreign markets. It has already found potentially serious wrongdoing, including indications of bribery in China, Brazil and India. A number of executives in Mexico and India have been suspended or forced to resign in recent months.
More from Money Now

Honestly if this comes as a shock to anyone you need to have your head examined.  These large corporations only see dollar $ign$ they have no reason to not do this because the fine will never take away all the extra profits they made through illegal dealings.  That's why companies lobby in the US because it's cheaper to give "benefits" than it is to pay taxes. I'm kind of hoping India takes a stand and boots Wal-Mart from there country, because they have a government investigation into illegal lobbying by Wal-Mart.  Although one large donation to the treasury without admitting wrong doing seems to do the trick anymore for large corporations.
"ZURICH — Swiss bank UBS was hit with a $1.5 billion bill and admitted to fraud Wednesday in order to settle charges of manipulating global benchmark interest rates.
The penalty agreed with U.S., U.K. and Swiss regulators is more than three times the $450 million fine levied on Barclays in June for rigging the Libor benchmark rate used to price financial contracts around the globe. It is the second-largest fine paid by a bank and comes a week after Britain's HSBC agreed to pay the biggest ever penalty — $1.92 billion — to settle a probe in the United States into laundering money for drug cartels."
$$$$$$$$$$$
It's only a fraction of what they made by doing it. The damage caused to the rest of us for what was done far exceeds the stated penalties. They all remain OPEN, so they can recover it quickly.
In TWO days, the Dow has risen 200+ points based entirely on speculation, which is gambling across state lines. Boehner's last doofus offer was shredded. So that means we AUTOMATICALLY see a 200+ point DROP in the Dow today, correct?
The most irresponsible no ethic or character people have become filthy rich during your terms. Those with THE SAME SKILL SET AS WALL STREET can't get replies on 3,800 online resumes. Imagine what the reparation costs are... a couple billion, a right arm or leg?
2 days to go. Remember, most people don't think we will lose gravity or the Sun will burn out... they think we will have CHANGE and if not, will begin giving up on hope and taking desperate and futile action. THAT can't go well. Maybe YOU need to ACT before the world has to.
THINK ABOUT IT: WE HAVE RICH POLITICIANS TRYING TO HAGGLE OVER INCREASED TAXES ON THE RICH AND A RICH WALL STREET BETTING ON THE OUTCOME. Doesn't that bother you? We are no closer to gun control today than the day some insane person killed the children of Newtown, CT. In fact, we've made ZERO headway on ANY front, but our government still got paid salary and went on vacations that MILLIONS DO AND DID NOT.
The people of France tore the Bastille apart with bare hands and sticks. I can tell you that modern day Greece and historic France are identical. We are a bit further off the deep end.  

Are you sure you want to delete this comment?
DATA PROVIDERS
Copyright © 2014 Microsoft. All rights reserved.
Fundamental company data and historical chart data provided by Morningstar Inc. Real-time index quotes and delayed quotes supplied by Morningstar Inc. Quotes delayed by up to 15 minutes, except where indicated otherwise. Fund summary, fund performance and dividend data provided by Morningstar Inc. Analyst recommendations provided by Zacks Investment Research. StockScouter data provided by Verus Analytics. IPO data provided by Hoover's Inc. Index membership data provided by Morningstar Inc.
MARKET UPDATE
[BRIEFING.COM] The stock market finished the Tuesday session on the defensive after spending the entire day in a steady retreat. The S&P 500 (-0.6%) posted its third consecutive decline, while the small-cap Russell 2000 (-0.9%) slipped behind the broader market during afternoon action.

Equity indices were pressured from the start following some overnight developments that weighed on sentiment. The market tried to overcome the early weakness, but could not stage a sustained rebound, ... More
More Market News