Detroit in hot water over proposal to sell art
Even though the city is running out of cash quickly, its emergency manager is finding resistance to one possible solution.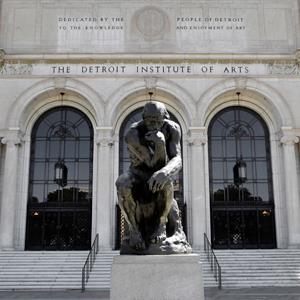 Say you're broke and are about to lose your home. You have a valuable painting that's been in your family for generations. Should you sell it to raise money?
That's the question stirring up controversy in Detroit, which is nearly bankrupt and could run out of cash within weeks. Last month, the city had only $64 million in cash but $226 million in bills. Its libraries are shutting down, and its Police Department
can't even pay
for gang squads anymore.
So the city's new emergency manager, Kevyn Orr, is floating a proposal to sell some of the pieces of art in the multibillion-dollar collection at the Detroit Institute of Arts. The city owns the building and the collection, after all -- a collection that, by the way, includes amazing works from the likes of Vincent van Gogh and Henri Matisse.
As painful as the idea may be, Orr says, it's something that must be examined. "It is an asset of the city to a certain degree," his spokesman
told
The Detroit Free Press. "We've got a responsibility . . . to rationalize that asset, to make sure we understand what's it's worth.
The idea is running into plenty of resistance. The museum has hired a lawyer, and it
said Friday
that the city is legally prohibited from selling any artwork. Patrons of the museum are in a tizzy. The American Alliance of Museums in Washington, D.C., is
promising
"hue and cry the likes of which you've never heard."
But Gawker raises a
very good question
that so far the city can't answer: "What good is having a van Gogh if you can't keep the lights on to see it?"
DATA PROVIDERS
Copyright © 2014 Microsoft. All rights reserved.
Fundamental company data and historical chart data provided by Morningstar Inc. Real-time index quotes and delayed quotes supplied by Morningstar Inc. Quotes delayed by up to 15 minutes, except where indicated otherwise. Fund summary, fund performance and dividend data provided by Morningstar Inc. Analyst recommendations provided by Zacks Investment Research. StockScouter data provided by Verus Analytics. IPO data provided by Hoover's Inc. Index membership data provided by Morningstar Inc.
MARKET UPDATE
[BRIEFING.COM] Equity indices remain near their best levels of the session. The S&P 500 trades higher by 0.4%, while the Nasdaq Composite (+0.5%) displays relative strength.

The Nasdaq has received significant support from tech stocks, which have been able to overshadow the underperformance of biotechnology. Top-weighted sector components like Apple (AAPL 102.12, +0.54), SAP (SAP 77.19, +0.67), and Qualcomm (QCOM 76.32, +0.49) display gains between 0.5% and 0.9%, ... More
More Market News
TOP STOCKS
Meet Alibaba's new billionaires
Despite its size, the IPO will create just two new members of the 10-figure club from its executive ranks. A few others could net hundreds of millions.