Retailers start to pull some rifles from shelves
Dick's Sporting Goods and Wal-Mart suspend some gun sales after last week's shooting in Connecticut.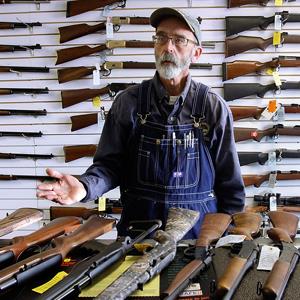 While politicians go back and forth about the future of gun control, some retailers are already making a statement and pulling assault weapons from their stores.
Dick's Sporting Goods
(
DKS
) has suspended sales of its modern rifles nationwide. It's also taken all of the guns off the shelves at its store near Newtown, Conn., where a 20-year-old gunman opened fire at an elementary school last week, killing 20 children and six educators.
The company said it took those actions out of respect for the victims and their families in this time of national mourning.
The gunman, Adam Lanza, used one of the Bushmaster AR-15 guns in his deadly rampage. A semi-automatic version of the weapon is popular for civilian sporting use, The Dallas Morning News
reports
. The large retailers selling assault weapons include Dick's,
Cabela's
(
CAB
) and
Wal-Mart
(
WMT
).
Wal-Mart has stopped showing the Bushmaster Patrolman's Carbine M4A3 rifle on its website as well,
according
to The Nation. There is no word whether Wal-Mart will stop selling the weapon at its stores, however. But Wal-Mart's site still shows that it's selling other guns at its stores, including the Sig Sauer M400.
Cabela's meanwhile, has stocked up on guns and ammunition heading into the fourth quarter -- largely a bet on surging gun sales after the presidential election. Here's what CEO Thomas Millner said in October,
according to
the Atlanta Business Chronicle:
"At least coming in to the fourth quarter, we've taken a pretty aggressive position in inventory commitment to both guns and ammunition. So that's a starting point. Clearly, if the president's re-elected, I would expect some surge beyond the current levels, which are really good. And if Gov. Romney is elected ... I still think we're gonna see gun growth next year. It probably won't be at the same pace. ... So it's probably a difference of degrees as we sit here today, but we're doing a lot of stuff in our stores to make sure we are the easiest, fastest place to shop for your firearms purchases."
More from Money Now
MARKET UPDATE
[BRIEFING.COM] Stocks ended modestly higher as the S&P 500 climbed 0.2%, and the Dow added 0.4% to register its 19th consecutive Tuesday of gains.

The major averages saw little change during morning action, but afternoon buying interest helped lift the indices to session highs. Most cyclical sectors (with the exception of materials and technology) finished among the leaders, but the defensively-geared health care sector settled atop the leaderboard as biotechnology outperformed. ... More
More Market News
TOP STOCKS
S&P 500 forecast to hit 2,100 by 2015
As the stock market reaches new highs, Goldman Sachs sees more gains ahead. Fueling the market: An improving economy, growing dividends and low interest rates.