Bill Gross fears our borrowing could doom us
The bond king is worried that massive credit expansion -- not just deficit spending -- is a threat to the global economy. His advice includes buying hard assets like gold.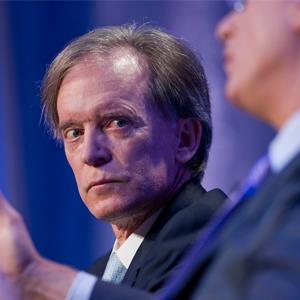 Even as the stock market is at five-year highs and the economy is looking stronger, Bill Gross is gloomy about the future. Very gloomy.
The problem the managing director of PIMCO sees is that the domestic economy is going to be suffocated by debt. Not just government debt. But by consumer debt and corporate debt as well.
The result will be that everyone will be working just to service their debts, and the economy won't grow. Everything will just stall out.
That's what he told readers of his popular
Investment Outlook essay, released this week
.
Actually, he uses T.S. Eliot's famous lines from "The Hollow Men" to focus the point:
    
     This is the way the world ends…     Not with a bang but a whimper.
This isn't an articulation of an anti-liberal point of view. It is the point of view of a bond guy concerned that real interest rates are too low and suggest a dysfunctional financial system.
Moreover, in Gross' view, the modern banking system is set up to produce inflation and generate real threats to the economy. Hence the title "Credit Supernova!"
If you deposit money in a bank, the bank keeps some of the money as a reserve and lends the rest out. The borrower, in turn, deposits the money he's been loaned, and the money gets loaned out again. The process repeats itself again and again. That's how money gets created and an economy expands.
Until the system gets out of control with way too much borrowing. Which is where Gross thinks it's headed.
The modern banking system in the United States and elsewhere moved through a period of self-sustaining credit to speculative credit expansion and now is into what the late economist
Hyman Minsky
called Ponzi finance. That's where everyone needs additional credit just to cover increasingly burdensome interest payments, with accelerating inflation the end result.
More important, in Minsky's view, the banking system encourages so much speculation that the result is ruinous boom-and-bust cycles.
Partly that's because the economy has actually grown (as has the global economy). But he sees the bigger problem as just ridiculous expansion of all forms of debt. The U.S. economy has seen the percentage of lending going to productive forms of investment dropping to around 15% of GDP from 21% or so in 2000.
Gross doesn't offer much in the way of how to stop the drift to Ponzi finance. He also concedes the end is not yet nigh.
But he offers some thoughts on what investors might do:
Protect yourself against inflation with securities like Treasury inflation-protected securities.
Get used to slower real growth.
Invest in global securities with stable cash flows.
Dump financial assets in favor of hard assets. "Gold, other commodities, anything that can't be reproduced as fast as credit."
Make sure you understand your property rights in any country where you invest.
Appreciate what Gross calls the "supernova" character of the existing credit system. It will morph into something else.
I'm not sure I buy everything Bill Gross says. He seems to echo what a bond investor might have said in the late 1970s. Don't get me wrong, however. He is a very smart and successful man.
The catalyst that will set off a wild round of inflation is not yet apparent. I suspect if job growth accelerates rapidly, inflation pressures will reappear. Another catalyst might be an an eruption in energy costs as growth in the global economy takes off. A third would be chaos around oil and gas fields in the Middle East and Africa.

More on moneyNOW
DATA PROVIDERS
Copyright © 2014 Microsoft. All rights reserved.
Fundamental company data and historical chart data provided by Morningstar Inc. Real-time index quotes and delayed quotes supplied by Morningstar Inc. Quotes delayed by up to 15 minutes, except where indicated otherwise. Fund summary, fund performance and dividend data provided by Morningstar Inc. Analyst recommendations provided by Zacks Investment Research. StockScouter data provided by Verus Analytics. IPO data provided by Hoover's Inc. Index membership data provided by Morningstar Inc.
MARKET UPDATE
[BRIEFING.COM] The stock market finished the Tuesday session on the defensive after spending the entire day in a steady retreat. The S&P 500 (-0.6%) posted its third consecutive decline, while the small-cap Russell 2000 (-0.9%) slipped behind the broader market during afternoon action.

Equity indices were pressured from the start following some overnight developments that weighed on sentiment. The market tried to overcome the early weakness, but could not stage a sustained rebound, ... More
More Market News