Subway customers break out rulers and complain
The company's foot-long sandwiches are coming up short, and diners are posting the photographic evidence online.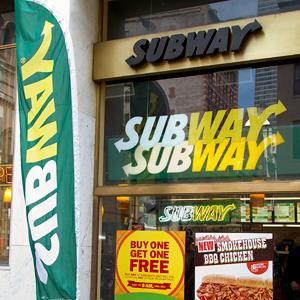 Subway took an inch, but photo evidence of its deceptively small sandwiches stretches for miles.
Because "$5 less-than-a-foot-lon​g" doesn't have quite the same ring to it as Subway's catchy limited-time offering, the company is doing some damage control after an Australian man put a tape measure to a 12-inch sandwich that was about an inch too small. He posted the photo on the Subway Facebook page, got more than 100,000 likes, then watched as the photo was promptly removed.
By the time Subway scrubbed the undersized sandwich off its page, the New York Post had already done some investigating. The newspaper found that four out of seven Subway footlongs fell below the 12-inch threshold.

Subway's detractors have since lit up its Facebook page with criticism, including one of its 19.8 million "friends" who recommended that the $5 footlong's price be reduced to $4.58 for 11-inch models. On Twitter, meanwhile, repeated images of people's sandwiches and tape measures have become a meme bordering on pop art. 
A spokesman for Milford, Conn., Subway told The Associated Press that the length of chain's sandwiches can vary when its bread, which is baked at each Subway location, is made without following the chain's guidelines. What they didn't say is just how widely those lengths can vary, which is exactly what the Arizona Department of Weights and Measures and Phoenix's KNXV-TV determined in 2007 when they measured 3-foot subs and found them as much as four inches short. The boxes meant to store those "3-foot" subs, meanwhile, measured less than 2 feet and 11 inches.
Does Subway's shortfall matter? Of course it does. Read the comments field beneath any story related to a restaurant chain and its pricing. Restaurant chains, especially those of the fast-food variety, exist largely based on their value. When consumers feel a chain isn't offering enough quality or quantity for the price paid, they're not afraid to let companies know it.
When Applebee's and Chili's offer 2-for-$20 meal deals while Olive Garden put its dishes out there at two for $25, Olive Garden parent company Darden (DRI) took heat and lost sales. When McDonald's (MCD) shifted away from its Dollar Menu to focus on higher-priced Angus burgers and other premium offerings, U.S. customers hit it with its first sales loss in nearly a decade back in October.
"People look for the gap between what companies say and what they give, and when they find the gap -- be it a mile or an inch -- they can now raise a flag and say, 'Hey look at this,' I caught you," Allen Adamson, managing director of branding firm Landor Associates in New York, told the AP.
Subway's sandwiches came up an inch short on Tuesday, but the chain may have put a few miles between itself and the value-driven post-recession public's trust. If it doesn't react correctly, even Manhattan real estate won't cost the chain that much per inch.
More on Money Now
DATA PROVIDERS
Copyright © 2014 Microsoft. All rights reserved.
Fundamental company data and historical chart data provided by Morningstar Inc. Real-time index quotes and delayed quotes supplied by Morningstar Inc. Quotes delayed by up to 15 minutes, except where indicated otherwise. Fund summary, fund performance and dividend data provided by Morningstar Inc. Analyst recommendations provided by Zacks Investment Research. StockScouter data provided by Verus Analytics. IPO data provided by Hoover's Inc. Index membership data provided by Morningstar Inc.
MARKET UPDATE
[BRIEFING.COM] The stock market finished the Tuesday session on the defensive after spending the entire day in a steady retreat. The S&P 500 (-0.6%) posted its third consecutive decline, while the small-cap Russell 2000 (-0.9%) slipped behind the broader market during afternoon action.

Equity indices were pressured from the start following some overnight developments that weighed on sentiment. The market tried to overcome the early weakness, but could not stage a sustained rebound, ... More
More Market News