Should the US legalize all drugs?
With more states decriminalizing marijuana, some people are saying applying that approach universally would benefit the economy and society.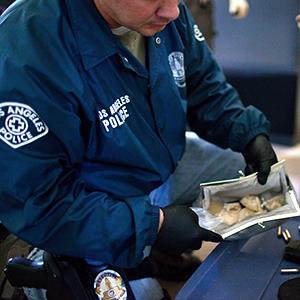 "Legalize it," reggae pioneer Peter Tosh sang back in the day, "and I will advertise it." The musical "it" in question was marijuana. But now, with medical marijuana legal in 18 states and Washington, D.C., and recreational cannabis use legal in Washington state and Colorado, some people are taking that thought to its extreme: Why don't we just legalize all drugs?
Economist Allison Schrager is examining that argument over at Quartz.com from a variety of angles.
Of course, blanket legalization would have a huge financial impact. The U.S. spends more than $40 billion annually on its war on drugs, but Schrager notes that figure doesn't include the additional economic burdens of keeping people in prison, drug-related violence and the cycle of poverty that drug use can help perpetuate.
On the other hand, she says, "prohibition does decrease drug use. The World Bank estimates cocaine use would double if it became legal in America." Another concern is that legalizing drugs would spark a international public health crisis.
But legalization, she says, could radically change the whole dynamic around drugs. Cocaine, for example, is price-sensitive. Taxing it might be an effective deterrent and also ensure quality control and make sure users got what they wanted. It might also increase the number of people who wouldn't otherwise seek treatment, fearful of the stigma attached, to do so.
Taking the drug trade "out of the shadows," Schrager says, would be a game changer both in the developing countries where those drugs are produced -- and whose economies are sometimes at the mercy of traffickers -- and for economically developed nations that are the major drug consumers.
"If drug production and trade were legal," she says, "contracts and property rights would be enforceable under law instead of violence, and drug-producing countries could tax drug exports and put the revenue toward economic development."
Even some doctors wonder about bringing illegal drug production and distribution in from the cold.

"As a physician, I abhor drug use and addiction of all forms," Dr. Harvey Lefton writes in the Physician News Digest. "But isn't it time we recognize the misery and the ineffectiveness of present programs?"
Lefton says letting the pharmaceutical companies produce now-illegal drugs and having the government regulate them would not only create new revenue streams worth billions of dollars but also combat the spread of disease and drug-related violence while funding rehabilitation and drug education programs.

"It may be too much to ask a government that hasn't passed the budget in four years to develop an enlightened social conscience," Lefton concludes. "But at some point we need to recognize that the disease of drugs is destroying our society. It needs to be treated in a more effective manner."
DATA PROVIDERS
Copyright © 2014 Microsoft. All rights reserved.
Fundamental company data and historical chart data provided by Morningstar Inc. Real-time index quotes and delayed quotes supplied by Morningstar Inc. Quotes delayed by up to 15 minutes, except where indicated otherwise. Fund summary, fund performance and dividend data provided by Morningstar Inc. Analyst recommendations provided by Zacks Investment Research. StockScouter data provided by Verus Analytics. IPO data provided by Hoover's Inc. Index membership data provided by Morningstar Inc.
MARKET UPDATE
[BRIEFING.COM] The stock market finished an upbeat week on a mixed note. The S&P 500 shed less than a point, ending the week higher by 1.3%, while the Dow Jones Industrial Average (+0.1%) cemented a 1.7% advance for the week. High-beta names underperformed, which weighed on the Nasdaq Composite (-0.3%) and the Russell 2000 (-1.3%).

Equity indices displayed strength in the early going with the S&P 500 tagging the 2,019 level during the opening 30 minutes of the action. However, ... More
More Market News