Milk prices could double after 'dairy cliff'
An expiring farm bill will boost costs just as the nation's tastes change.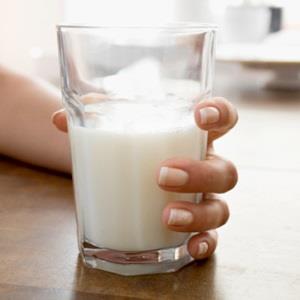 Amid a holiday season filled with gun violence, Superstorm Sandy fallout and fiscal cliff worries, even seasonal American creature comforts like a short stack of cookies and a tall glass of milk are laden with worry.
Dunk those snowman-shaped sugar cookies at your own risk and ration Santa's to-go glass, because milk is going to get a whole lot costlier if congressional inaction continues.

The current agriculture bill expired this summer, and temporary aid to farmers is set to expire on Jan. 1. That includes a dairy subsidy that allows the government to buy up milk if prices below half of the $3.65 national average. Without that plan in place, the per-gallon price will jump to roughly $7.
New York Sen. Chuck Schumer brought up the issue during a news conference in September, according to CBS News. He warned that milk prices could double for consumers already putting nearly 11% of their grocery budget toward dairy products, according to the Bureau of Labor Statistics.
The problem is that the vacuum left by the agriculture bill's absence would be filled by a statute dating back to 1949. Under those terms, the government would have to buy back milk at double current prices, which would increase costs across the board for companies like Kraft (KRFT), Hershey (HSY) and any other that uses large quantities of milk.
"If you like anything made with milk, you're going to be impacted by the fact that there's no farm bill," U.S. Secretary of Agriculture Tom Vilsack told CNN's Candy Crowley in an interview for "State of the Union" slated to air Sunday. "Consumers are going to be a bit shocked when instead of seeing $3.60 a gallon for milk, they see $7 a gallon for milk. And that's going to ripple throughout all of the commodities if this thing goes on for an extended period of time."
That's not exactly great news for the dairy industry, either. Milk prices were already up after the summer drought stifled milk production and grain prices increased, but Department of Agriculture numbers already show a 30% decline in milk consumption since 1975. It's dropped 3.3% already 2012 from 2011, the biggest decline since 1975.
As much as the dairy industry may want to pin losses on alternatives like soy and almond milk, sales of all types of liquid milk has fallen 2.9% by volume since 2011 as total dollar sales have slipped 2.2%, according to market-research firm SymphonyIRI Group. However, the dairy industry is taking a huge hit as sales of skim and low-fat milk have dropped 4% by volume.

Chris Galen, a spokesman for the National Milk Producers Federation, which represents over 30,000 dairy farmers, told CNN that the looming price hike is a "dairy cliff" that could forces manufacturers to consider dairy imports or alternatives. Though the price hikes would take a few weeks to hit supermarkets, continued Congressional inactivity would ensure a spike if the current farm bill isn't extended or a new farm bill isn't implemented.
Considering Congress is home for the holiday slugging back as much milk as consumers are, Americans may want to savor a relatively cheap sip or two while it can.
More from Money Now
DATA PROVIDERS
Copyright © 2014 Microsoft. All rights reserved.
Fundamental company data and historical chart data provided by Morningstar Inc. Real-time index quotes and delayed quotes supplied by Morningstar Inc. Quotes delayed by up to 15 minutes, except where indicated otherwise. Fund summary, fund performance and dividend data provided by Morningstar Inc. Analyst recommendations provided by Zacks Investment Research. StockScouter data provided by Verus Analytics. IPO data provided by Hoover's Inc. Index membership data provided by Morningstar Inc.
MARKET UPDATE
[BRIEFING.COM] The stock market finished the Tuesday session on the defensive after spending the entire day in a steady retreat. The S&P 500 (-0.6%) posted its third consecutive decline, while the small-cap Russell 2000 (-0.9%) slipped behind the broader market during afternoon action.

Equity indices were pressured from the start following some overnight developments that weighed on sentiment. The market tried to overcome the early weakness, but could not stage a sustained rebound, ... More
More Market News