Are hipsters hiking Pabst Blue Ribbon prices?
Budget brews have gotten costlier recently, but the trend toward cheaper brands is more widespread than this group could account for.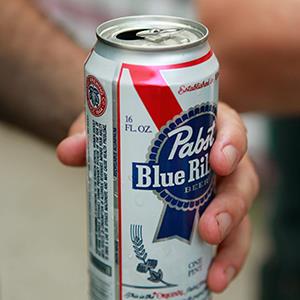 A beer once notorious for being cheap isn't cheap anymore? Blame the hipsters!
Yes, those tattooed, pierced, plaid-shirted, fixed-gear-bike-ridi​ng, black-rimmed-glasses​-wearing, chicken-raising, (add your own stereotype for this ill-defined brood of people)-ing folks are raising the price of bad beer, making life all the tougher for people on the low end of the bar. At least that's what the tag team of research firm Restaurant Sciences and the New York Daily News would have you believe.
According to Restaurant Sciences, the price of "sub-premium" beers like PBR has ballooned by 6.8% since October. With the beer lobbying group the Beer Institute saying overall beer sales have dropped by 2.8% since January, the hipsters and their "love" for PBR must be to blame, right?
Well, kind of. Since 2009, sales of Bud Light, Budweiser, Miller Lite, and Miller Genuine Draft have all declined steadily. Pabst Blue Ribbon, meanwhile, saw its sales volume jump by 25.4% in 2009 alone before climbing by 17.6% in 2010 and 13.8% in 2011, according to Beer Marketer's Insights.

In fact, while the SABMiller and MolsonCoors (TAP) joint venture MillerCoors saw sales drop by 1.8% in 2012 and Anheuser-Busch InBev (BUD) reported only a 0.6% uptick, its first gain since 2008, Pabst sales soared by 4.4%.
That exceeded the 3.5% growth of Constellation Brands' (STZ)  Crown Imports, which imports Corona, and the 1.5% overall growth of the beer market during the same span. We're sorry, but there just aren't enough hipsters out there to warrant the 5.95 million barrels Pabst produced last year.
As the Beer Institute has noted before, the recession put the squeeze on the average middle- to working-class beer buyer. The folks who used to stock up on multiple 30-packs for Memorial Day weekend have cut back quite a bit, taking Bud and Miller sales with them. Pabst may have seen its price increase, but it's still a cheaper alternative along the lines of Natural Light, Keystone Light and Bud Ice, all of which have also seen sales rise over the past three years.
That downmarket shift, combined with the growth of Coors Light that pushed it ahead of Budweiser for the No. 2 spot in U.S. beer sales in 2011, accounts for much of the demand that has been increasing prices and dragging down flagship beer sales.
Also, aren't we more than a decade late on blaming hipsters for the popularity of PBR?
Anecdotally, the last time you could regularly find a PBR for $2 or less in Manhattan was around 1999. By 2000, PBR-slinging NYC bar Coyote Ugly Saloon had its own movie. A year later, it opened a location in Las Vegas. By that point, any tangential relationship between PBR and hipsters in Brooklyn's Williamsburg section or anywhere else had been severed.
Not that it mattered. PBR may now be the $4 gag beer on the menu of some places with wall curtains and marble bars that consider themselves "upscale" -- a word that has about as much meaning as "hipster" these days. But even when PBR was cheap, it wasn't exactly some anti-establishment choice. Though Pabst Brewing Co. was purchased by the Metropolous family for $250 million in 2010, PBR is still brewed under contract with MillerCoors.
Even cheaper legacy brands like Schlitz, Rainier, Old Style, Olympia, Stroh's, Ballantine and National Bohemian are all owned by Pabst and contract-brewed. Budget beer drinkers can blame hipsters all they want for rising prices, but it's not their fault that frugal barflies followed them to the cheap stuff.
DATA PROVIDERS
Copyright © 2014 Microsoft. All rights reserved.
Fundamental company data and historical chart data provided by Morningstar Inc. Real-time index quotes and delayed quotes supplied by Morningstar Inc. Quotes delayed by up to 15 minutes, except where indicated otherwise. Fund summary, fund performance and dividend data provided by Morningstar Inc. Analyst recommendations provided by Zacks Investment Research. StockScouter data provided by Verus Analytics. IPO data provided by Hoover's Inc. Index membership data provided by Morningstar Inc.
MARKET UPDATE
[BRIEFING.COM] The stock market finished an upbeat week on a mixed note. The S&P 500 shed less than a point, ending the week higher by 1.3%, while the Dow Jones Industrial Average (+0.1%) cemented a 1.7% advance for the week. High-beta names underperformed, which weighed on the Nasdaq Composite (-0.3%) and the Russell 2000 (-1.3%).

Equity indices displayed strength in the early going with the S&P 500 tagging the 2,019 level during the opening 30 minutes of the action. However, ... More
More Market News