No-frills Spirit Airlines hawking canned wine
Sometimes accused of serving its bottom line better than its passengers, the carrier has a new cost-saving venture.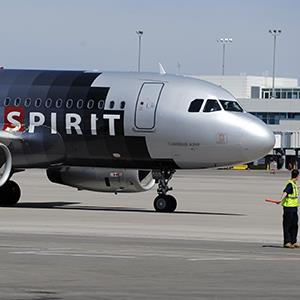 Maybe it's the executives at Florida-based Spirit Airlines (SAVE) who need a drink or two. After all, the latest edition of Consumer Reports gave the carrier the lowest overall scores for any company ever rated by the magazine. Spirit also made Business Insider's list of the 20 Worst Airlines in the World.
Either way, the no-frills airline -- which has a hefty list of additional fees for almost everything brought on board or stowed away and a strict no-refund policy -- is making news with its latest passenger perk: wine in a can. The drinks are priced to move, at $7 for one can or $12 for two.
Spirit's public relations folks say the low-alcohol (6%) wine beverages served in aluminum cans and a variety of fruit flavors will bring "a fusion of European style and thinking to the States (while) encouraging Americans to think outside the bottle."

Fair enough, although many Europeans probably prefer their beloved beverage without a metallic finish. According to The Associated Press, Spirit prefers cans to bottles because they're easier to store on planes -- and relatively lighter, which also saves on fuel costs.
And it's the bottom line that appears to matter most to Spirit's top management. Investor's Business Daily reports that, since its 2011 IPO, the airline's shares have climbed steadily -- with 2013 first-quarter revenues up by nearly 23% compared to 2012.
"We're No. 1 in margin performance for our investors," Spirit CEO Ben Baldanza said last month during an interview on CBS This Morning. "We're growing faster than any other airline in the U.S., so we're employing more people. We're the lowest fare in the industry. So we're No. 1 in the things that matter most to our employees, our customers and our shareholders."
And as for serving wine in cans, "people adapt," Baldanza told AP. "Your choices at 30,000 feet are pretty limited."
DATA PROVIDERS
Copyright © 2014 Microsoft. All rights reserved.
Fundamental company data and historical chart data provided by Morningstar Inc. Real-time index quotes and delayed quotes supplied by Morningstar Inc. Quotes delayed by up to 15 minutes, except where indicated otherwise. Fund summary, fund performance and dividend data provided by Morningstar Inc. Analyst recommendations provided by Zacks Investment Research. StockScouter data provided by Verus Analytics. IPO data provided by Hoover's Inc. Index membership data provided by Morningstar Inc.
MARKET UPDATE
[BRIEFING.COM] S&P futures vs fair value: -8.00. Nasdaq futures vs fair value: -19.00. Nasdaq at... NYSE Adv/Dec 0/0... Nasdaq Adv/Dec 0/0.
More Market News