Obama's student loan profit machine
In his current term, the government may earn more than $110 billion from this program, more than the country's most lucrative companies.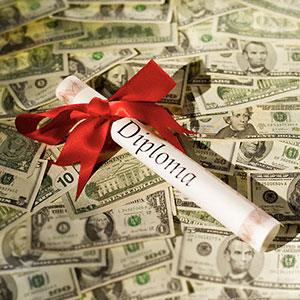 The federal government will turn a tidy profit -- to the tune of more than $110 billion -- from student loans during President Barack Obama's current term, thanks to a form of arbitrage that's helping the government reap more in earnings than some of the country's most lucrative companies. 

What's driving the government's profits from lending to students? It's the fact that while the Federal Reserve is maintaining rock-bottom interest rates, students are obligated to repay their loans at a rate that's three times as high. The Treasury, as the middleman, gets to keep the difference. 
That will allow the government to book profits of about $35 billion in the current fiscal year from its loans to college graduates, according to estimates from the Congressional Budget Office. 
On top of that figure, the agency on Tuesday said a credit adjustment will add an extra $15 billion in profit, partly because older loans had been more profitable than earlier forecast, given the Fed's continuing low rates. On paper, that means the government will profit by about $50 billion this year. 
And it means the government's student loan program is more profitable than some of the country's most lucrative businesses, from Apple (AAPL), which posted a $41.7 billion profit last year, to Exxon (XOM), which had $44.9 billion in profit last year, as the Huffington Post points out.
The student loan program is expected to report several extremely profitable years to come, too. Until Obama leaves office, the government is forecast to reap more than $110 billion in profits from lending money to college students, according to the CBO's estimates. 
What's interesting is that the money machine isn't expected to go on at these levels forever. Because the Fed is likely to raise rates as the economy stabilizes, the CBO projects that profits will shrink each year through 2023. By that point, the government may realize only $6 billion in student loan profits per year, give or take. 
The moneymaking machine may lend support to Sen. Elizabeth Warren, D-Mass., and her argument that students should pay the same ultralow interest rate the Fed charges to banks, as reported Monday. 
College grads currently pay 3.4% on federally subsidized Stafford loans, a rate that Congress set more than a decade ago, when rates were much higher than today's. The Federal Reserve discount rate is just 0.75%. 
But with total student debt of more than $1 trillion, many people in their 20s and 30s are struggling to pay off their student loans while also pursuing dreams such as buying a home.
Follow Aimee Picchi on Twitter at @aimeepicchi. 
DATA PROVIDERS
Copyright © 2014 Microsoft. All rights reserved.
Fundamental company data and historical chart data provided by Morningstar Inc. Real-time index quotes and delayed quotes supplied by Morningstar Inc. Quotes delayed by up to 15 minutes, except where indicated otherwise. Fund summary, fund performance and dividend data provided by Morningstar Inc. Analyst recommendations provided by Zacks Investment Research. StockScouter data provided by Verus Analytics. IPO data provided by Hoover's Inc. Index membership data provided by Morningstar Inc.
MARKET UPDATE
[BRIEFING.COM] The major averages posted solid gains ahead of tomorrow's policy directive from the Federal Open Market Committee. The S&P 500 rallied 0.8%, while the Russell 2000 (+0.3%) could not keep pace with the benchmark index.

Equity indices hovered near their flat lines during the first two hours of action, but surged in reaction to reports from the Wall Street Journal concerning tomorrow's FOMC statement. Specifically, Fed watcher Jon Hilsenrath indicated that the statement ... More
More Market News