2 ways of looking at ticket scalping
People reselling seats at inflated prices are part of the scenery at concerts and sporting events. Is it 'pure capitalism,' or is it a crime?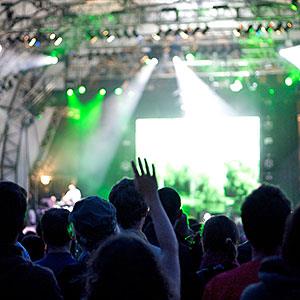 Bad karma, dude. That's what one University of Oregon professor says ticket scalpers are accumulating by scooping up tickets to the Dalai Lama's scheduled appearance at the school next month and selling them online for more than 10 times the original price of $20.
Despite the amazing cynicism involved in trying to make a buck off a religious leader (and a winner of the Nobel Peace Prize to boot), scalping -- the reselling of legally purchased tickets for often more than their original face value -- is just part of the scenery at most major sporting and entertainment events.
The publication Entertainment and Sports Lawyer estimates the "secondary ticket market" is a $5 billion business with a growth rate of about 12%. Myles Kaufman at the ticket search engine SeatGeek found 29 states have laws regarding the resale of tickets. But only a handful, he says, have outright bans or strong regulations. And those laws are often hard to enforce.
Efforts to get a Fairness in Ticketing Act passed in Tennessee's legislature failed last week. Several big venues supported the bill, which would have required ticket brokers to register with state authorities and disclose both the original price and seat number of tickets.
"It's upsetting to see what people pay, double or triple, for ticket prices, Tennessee Theatre general manager Tom Bugg told WBIR-TV. "And there's no recourse for them when they figure it out."
But according to TicketNews.com, the Tennessee measure was doomed by opposition from consumer advocates, property rights activists, event-goers -- and groups like the Fan Freedom Project. The group bills itself as a grassroots organization. It received initial funding, however, from StubHub, the online ticket marketplace that's a division of eBay (EBAY).

According to Fan Freedom, one of the main issues it has against anti-scalping laws is ticket transferability. "When fans buy tickets, we own them," the organization's website says. "We have the right to buy, give away or sell our tickets however we choose, anytime we choose, in any way we choose, at any price we choose."
In the meantime, Entertainment and Sports Lawyer says Stubhub and companies like industry giant Ticketmaster -- which merged in 2010 with Live Nation to form Live Nation Entertainment (LYV) -- "have stepped up their efforts in statehouses across the nation and inside the Beltway as part of an effort to align the laws with their respective interests."
And not everyone considers scalping a bad thing. Jim Caple at ESPN.com calls it "capitalism at its purest level."
"An event is sold out, you need a ticket and the scalper provides you one at a mutually agreed upon price," he wrote several years back. "You don't need to be Louis Rukeyser to understand the remarkable efficiency of this market."
DATA PROVIDERS
Copyright © 2014 Microsoft. All rights reserved.
Fundamental company data and historical chart data provided by Morningstar Inc. Real-time index quotes and delayed quotes supplied by Morningstar Inc. Quotes delayed by up to 15 minutes, except where indicated otherwise. Fund summary, fund performance and dividend data provided by Morningstar Inc. Analyst recommendations provided by Zacks Investment Research. StockScouter data provided by Verus Analytics. IPO data provided by Hoover's Inc. Index membership data provided by Morningstar Inc.
MARKET UPDATE
[BRIEFING.COM] The stock market finished the Tuesday session on the defensive after spending the entire day in a steady retreat. The S&P 500 (-0.6%) posted its third consecutive decline, while the small-cap Russell 2000 (-0.9%) slipped behind the broader market during afternoon action.

Equity indices were pressured from the start following some overnight developments that weighed on sentiment. The market tried to overcome the early weakness, but could not stage a sustained rebound, ... More
More Market News