How gun-makers shrugged off illegal sales
Testimony from liability lawsuits shows they were reluctant to volunteer help in curbing criminal purchases.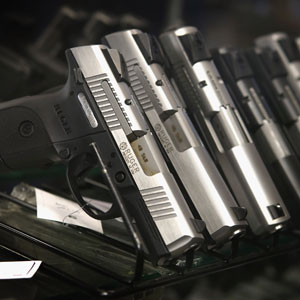 The continued refrain of the gun industry since the shootings in Newtown, Conn., has implored the nation to enforce existing gun laws rather than impose new ones.
But gun-makers didn't like the old laws so much a decade ago, and they have used new ones to shield themselves from accountability.
The New York Times recently dug into a pile of transcripts from a series of liability lawsuits filed before 2005 -- when Congress passed a law protecting gun manufacturers from such suits -- and found the weapons manufacturers consistently opposed monitoring the dealers and distributors that sell their firearms to the public, beyond the most basic requirements of the law.

As Charles Guevremont, the president of gun-maker Browning, said: "That's not for us to enforce the law."
On Tuesday, The Times published testimony from transcripts that were labeled as confidential and packed away in archives at law firms and courthouses around the country. As the paper discovered, not only are gun manufacturers still unwilling to voluntarily prevent firearms from falling into the wrong hands, but lobbying by gun-rights groups has restricted the government's use of gun-sale tracing since the lawsuits began and has made it difficult to enforce existing laws.

Limits on multiple gun sales to a single buyer, a major issue in most of the lawsuits, is still a contentious topic as the gun industry is in court fighting a new requirement that dealers report such rifle sales under certain circumstances. In the testimony, most gun industry executives appeared to feel little or no responsibility for monitoring such behavior.

A Glock executive, for example, testified that he would maintain a business relationship with a gun dealer indicted on charges of violating firearms laws, because "this is still America" and "you're still innocent until proven guilty." The president of Sturm, Ruger & Co. (RGR) shrugged off police traces of guns back to the company's distributors, saying they "wouldn't show us anything."

Asked whether his company tried to learn if dealers were illegally trafficking guns on the black market, a Taurus International executive responded, "I don't even know what a gun trafficker is."
MKS Supply owner Charles Brown, whose company is the only distributor of an inexpensive brand of gun that frequently turned up in criminal investigations, said he never looked at trace requests from federal officials to see which of his dealers frequently sold guns used in crimes.
More than 30 cities, counties or states filed suit against gun-makers beginning in the late 1990s, charging that the industry was negligent, or willfully blind, in its sales practices. It was a tactic similar to the one used in successful suits against tobacco companies -- but to far lesser effect in this case.
DATA PROVIDERS
Copyright © 2014 Microsoft. All rights reserved.
Fundamental company data and historical chart data provided by Morningstar Inc. Real-time index quotes and delayed quotes supplied by Morningstar Inc. Quotes delayed by up to 15 minutes, except where indicated otherwise. Fund summary, fund performance and dividend data provided by Morningstar Inc. Analyst recommendations provided by Zacks Investment Research. StockScouter data provided by Verus Analytics. IPO data provided by Hoover's Inc. Index membership data provided by Morningstar Inc.
MARKET UPDATE
[BRIEFING.COM] The stock market finished the Tuesday session on the defensive after spending the entire day in a steady retreat. The S&P 500 (-0.6%) posted its third consecutive decline, while the small-cap Russell 2000 (-0.9%) slipped behind the broader market during afternoon action.

Equity indices were pressured from the start following some overnight developments that weighed on sentiment. The market tried to overcome the early weakness, but could not stage a sustained rebound, ... More
More Market News