Lance Armstrong could lose millions
After confessing to doping, the disgraced cyclist may find his net worth is at risk.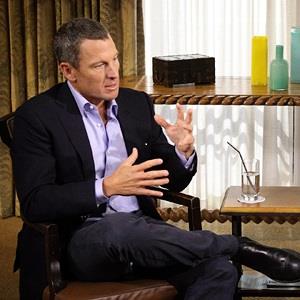 After admitting to doping during an interview with Oprah Winfrey, disgraced cyclist Lance Armstrong might find the toughest part to come: legal challenges and negotiations with prior supporters that could drain millions from his bank account.

Friday night, Armstrong will address some of the issues around his sponsorships and his decision to step down from the Livestrong Foundation, according to a preview that aired on Thursday night for the second part of Winfrey's interview.
When Nike (NKE) called to tell him they were dropping him, Armstrong said in the preview, it was a "$75 million day -- gone."
With a tangled web of endorsements and business interests -- as seen in this amazingly convoluted flowchart -- it's tough to estimate exactly how much Armstrong earns each year, although his net worth has been estimated between $100 million to $125 million. 
The U.S. Anti-Doping Agency slapped a lifetime ban on Armstrong in October, adding fuel to some lawsuits against the cyclist. Now that Armstrong has admitted to Winfrey that he engaged in doping, those lawsuits could receive a bigger impetus and possibly reduce his net worth significantly, according to NPR.org. 
U.S. Attorney General Eric Holder is reportedly considering whether to join in a whistleblower lawsuit from cyclist Floyd Landis, reports the New York Daily News, which reviewed the sealed lawsuit. Filed under the False Claims Act, the lawsuit alleges that Armstrong and his associates defrauded millions from taxpayers, given that he was in allegedly in violation of the sponsorship agreement between himself and the U.S. Postal Service. 
Armstrong is said to be in talks with the U.S. Postal Service to return some sponsorship money, although it's not known how much is at stake. During the team's peak years of 2001 to 2004, the postal service likely spent at least $30 million to underwrite Armstrong's team.
Many sponsorship contracts are created to last only short periods, and some of Armstrong's deals might have already expired, Marc Edelman, a law professor at Barry University's Dwayne O. Andreas School of Law, tells MSN Money. 
It's unlikely that a sponsor would seek compensation through the courts, he says. "A much more drastic remedy might involve a brand going after Lance Armstrong for past payments, or for indirect damage done to brand," Edelman says. "Those are much more difficult to win."
Aside from legal problems, Armstrong is facing a loss of future income from severed sponsorships and reduced speaking fees. It's possible for Armstrong to revive his image -- but it's going to take a while, notes Karl Heiselman, chief executive of brand consultancy Wolff Olins. 
Coming clean is the first step, he tells MSN Money. 
"There are always opportunities to redeem yourself, but it comes back to honest, sincere action," Heiselman says. "He used to stand for is perseverance, so this is obviously a major blow to that."
Armstrong should "take on a new cause, such as anti-doping, and it'll take a long road to rebuilding" his reputation, he adds. 
In the meantime, there is one clear winner in Armstrong's confession: Winfrey. 
Her struggling cable network received a sizable premium for advertising spots during her two-part interview with Armstrong, reports Advertising Age. 
OWN is fetching about $100,00 for a two-unit package, giving advertisers access to spots in both nights of the interview, marking a 40% to 50% bump from any other night on the cable network, according to the story. 
And even better for Winfrey, inventory has sold out.
More on Money Now
DATA PROVIDERS
Copyright © 2014 Microsoft. All rights reserved.
Fundamental company data and historical chart data provided by Morningstar Inc. Real-time index quotes and delayed quotes supplied by Morningstar Inc. Quotes delayed by up to 15 minutes, except where indicated otherwise. Fund summary, fund performance and dividend data provided by Morningstar Inc. Analyst recommendations provided by Zacks Investment Research. StockScouter data provided by Verus Analytics. IPO data provided by Hoover's Inc. Index membership data provided by Morningstar Inc.
MARKET UPDATE
[BRIEFING.COM] The commodity complex was under pressure today as a stronger dollar index weighed on prices.

Dec gold pulled back from its session high of $1226.30 per ounce set in morning action and traded as low as $1214.60 per ounce, its lowest since January 2014. Unable to gain momentum, it settled 0.8% lower at $1216.50 per ounce, booking a loss of 1.2% for the week.

Dec silver fell to four year lows after trading as high as $18.49 per ounce in early morning floor trade. It ... More
More Market News
TOP STOCKS
Up next: The biggest bank IPO ever
The expected $3.36 billion offering from Citizens Financial Group won't come close to Alibaba's, but it will be an important one for the market.