Wal-Mart sues union over protests
The retailer says union groups trespassed on its stores to address unfair labor policies, but critics and competitors say the superstore is missing the point.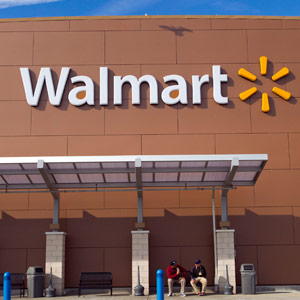 Prices. Laws. Constitutional amendments. Is there anything
Wal-Mart
(
WMT
) can't roll back?
Despite trespass laws already on the books that can punish protesters who enter Wal-Mart's stores and that little amendment at the top of the Bill of Rights that protects their presence beyond its parking lot, the superstore decided that suing its foes is the best way to stop an ongoing labor dispute in Florida.
Reuters quoted a Wal-Mart spokeman citing "disruptive tactics" and (the redundant) "illegal trespassing" for pressing the suit against the United Food and Commercial Workers International Union (UFCW) and a group of current and former employees in a union subsidiary known as OUR Walmart. The suit, originally filed on Friday, has as much to do with criticism of Wal-Mart's labor practices as it does with its property rights claims.
Wal-Mart alleged that the defendants violated Florida law through coordinated, statewide acts of trespass in several Wal-Mart stores over the last eight months. It has asked the court for a permanent injunction against such protests, which have included picketing and flash mobs. It alleges protesters last year projected a video promoting their cause onto one store, passed out literature in another and handed a rotten pumpkin to a store manager in yet another.
Wal-Mart claims it called police in certain instances, but complains that no arrests were made despite law enforcement issuing 30 trespass warrants. That, however, isn't what prompted Wal-Mart to file an unfair labor practice charge against the union with the National Labor Relations Board in November. Nope, what got the retailer all worked up were threats of strikes and a walkout by employees irate about the store's extended Black Friday sales -- presenting a risk to the company's holiday-season bottom line.
The retailer still posted an 8.6% boost in profits for the fourth quarter, prompting unions to suggest that Wal-Mart was dodging the real issue: the average Wal-Mart associate's $8.81-an-hour paycheck, which adds up to a yearly wage of about $15,500 and keeps hundreds of thousands of the company's workers living below the poverty line. Union subsidiary OUR Wal-Mart wants average wages bumped up to $13-an-hour, but non-union Wal-Mart hasn't acknowledged their complaints.
The timing of Wal-Mart's suit is somewhat awkward, especially considering that its competition at Costco (COST) is lobbying for a higher minimum wage, paying its starting employees nearly $3 more an hour than Wal-Mart and considering benefits like health care untouchable. Oh, and Costco just inked a three-year contract with the Teamsters. As much as customers love both Wal-Mart and Costco's low prices, they don't like going through picket lines and hearing about unfair labor practices to get to them. Wal-Mart knows this, but Costco's strategy seems a lot less messy.
DATA PROVIDERS
Copyright © 2014 Microsoft. All rights reserved.
Fundamental company data and historical chart data provided by Morningstar Inc. Real-time index quotes and delayed quotes supplied by Morningstar Inc. Quotes delayed by up to 15 minutes, except where indicated otherwise. Fund summary, fund performance and dividend data provided by Morningstar Inc. Analyst recommendations provided by Zacks Investment Research. StockScouter data provided by Verus Analytics. IPO data provided by Hoover's Inc. Index membership data provided by Morningstar Inc.
MARKET UPDATE
[BRIEFING.COM] The stock market began the new week on a cautious note. The S&P 500 lost 0.3%, but managed to erase more than half of its opening decline. Thanks to the rebound, the benchmark index reclaimed its 50-day moving average (1976.78) after slipping below that level in the morning.

Equities slumped at the open amid a couple global developments that dampened the overall risk appetite. Continued student protests in Hong Kong and a potential response from China weighed on the ... More
More Market News